Behind the scenes on The Now Show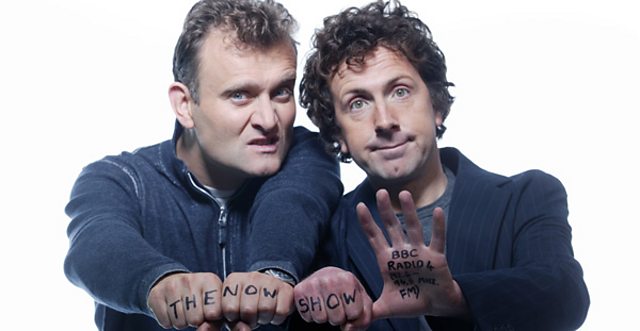 http://www.bbc.co.uk/programmes/b006slnx
I'm a bit fed up this week, well jealous actually.
Of all the dream assignments I can imagine, such as interviewing Hilary Mantel, playing guitar with Mark Knopfler, and being shown round Barry Island by Uncle Bryn or Nessa, going backstage to watch the writers of the Now Show working their alchemy on unlikely items of news is up there with the best of them.
I thought I'd cracked it this week when a listener took offence at one of their satirical takes on climate change.
I volunteered to go and report but they gave the gig to Louise Adamson instead and I got to sit in the Feedback studio with a cup of BBC coffee writing this script.
Louise, on the other hand, met up with the Now Show's main presenters - Steve Punt and Hugh Dennis - and even got to sit in on one of the writers' meetings at the beginning of the week. Steve and Hugh - together with Now Show producer, Ed Morrish and the rest of the team - were busy trying out ideas for the show. I do hope that the rabbit joke made it to the final cut.
I hope you enjoy this extract from this week's Feedback. Please feel free to comment here on the blog.
Now over to Louise:
Roger Bolton presents Feedback on BBC Radio 4