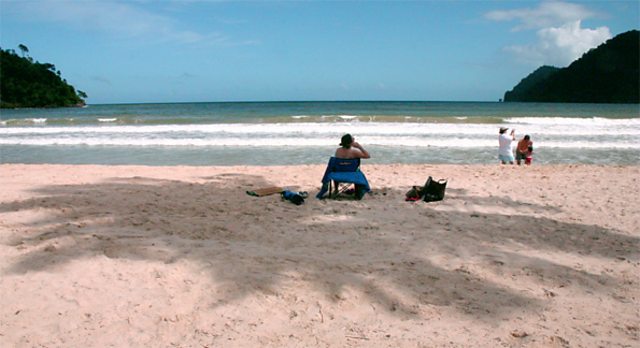 Editor's introduction: For the next four weeks Radio 4 Extra's running a season of "gripping, escapist summer reading... twisted family drama, sweeping romance and, above all, great story-telling by best-selling authors old, new and to come..." I asked the producers, Lucy Collingwood (LC) and Gemma Jenkins (GJ), to tell us a bit more about the project on the blog - PM.
LC: It's been great to have the opportunity to produce some different kinds of books for this new season. We searched for popular page turners that are real holiday reads. We spent a couple of months reading dozens of novels on our journeys to work and were really impressed by the ones we ended up choosing.
As we plan our productions quite far in advance, we were reading a lot of these through November and December. It was a good test of the books to see if they could really transport us to a different place and help us escape from a delayed tube journey on a snowy morning in December.
GJ: I decided to undertake a surreptitious straw poll during my train journey up to work to get an idea of what seemed to be the most popular books. I got a few odd looks as I tried to peer at book covers and decipher titles from across the aisle. There were a few surprises - someone was reading teach yourself Mandarin and someone else was engrossed in a book about pure mathematics - but, on the whole, the desire to escape into another world seemed a firm favourite.
During my reading, I discovered I had a taste for the more lurid end of the market - glamorous worlds with genuine moustache twirling villains and revenge plots to rival a Jacobean Tragedy but due to their epic scale it would have been too tricky to abridge them down into 5x30 minute episodes. Shame!
LC: I had really strong emotional reactions to both of the books I ended up producing for the season, Before I Go to Sleep by SJ Watson and To Be Sung Underwater by Tom McNeal - which I thought was a pretty good sign! When I started reading Before I Go to Sleep, it reminded me of the films Memento and 50 First Dates as it is about a woman having no short term memory. However, a few pages in I was totally hooked by this truly gripping, original story and literally couldn't put it down (or go to sleep myself) before I knew what happened to her. I know Alison Joseph, the abridger, felt the same.
To Be Sung Underwater floored me. I was immediately swept up in the writing, in Judith's inspiring teenage summers in Nebraska and her long lost love story. It made me want to go and stay in a cabin and eat muffins with chokecherry jam myself. And in the end (without giving anything away) I found myself sobbing whilst heading home one evening, squashed in between commuters trying to hold on to my book, the pole and find a tissue without revealing anything to my fellow travellers.
GJ: Coming from a close-knit family myself I really warmed to the characters in Joanna Trollope's Daughters-in-Law, although their behaviour drove me mad at times too. While recording the romantic comedy, To The Moon and Back by Jill Mansell, I got the perfect response from the studio manager when we'd finished the first day's recording. As he wasn't scheduled to cover the next day, he pulled me to one side and said, "So, does he get the girl in the end?" Well, you'll just have to wait and see!
It's been a total pleasure working on the series and we hope listeners will enjoy the season as much as we did making it.
Book at Beachtime is produced by Lucy Collingwood and Gemma Jenkins
Book at Beachtime starts on Radio 4 Extra on June 20th at 2.30pm and runs from Monday to Friday for the next 4 weeks. You can also listen online on the Radio 4 Extra website.
The picture shows Maracas beach in Trinidad
Read more entries tagged "book" on the Radio 4 and 4 Extra blog