The leaders' debates on radio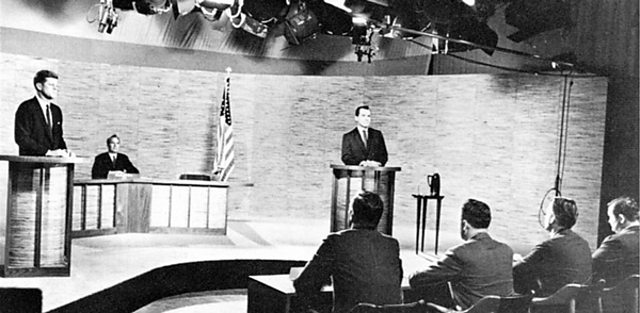 http://www.bbc.co.uk/programmes/b006slnx
I hope you are not disappointed by this week's blog!
I would have liked to avoid commenting on the election coverage since many Feedback correspondents are threatening to leave the country if Radio 4 keeps on clearing its schedules for the prime ministerial debates which are being transmitted at the same time on television. It is our correspondents who have a big say in the Feedback agenda, however, and that is what many have written to us about this week.
Several listeners to the first of the debates believe that the party leader who won the television debate was not the same person who won on radio. Like the Kennedy Nixon presidential debates 50 years ago they believe that radio enables you to concentrate on content, while television forces you to consider how well the candidates have shaved, how white and regular their teeth are and if there is any dandruff on their shoulders.
I am not going to be so foolish as to equate either Gordon Brown, Nick Clegg or David Cameron with Richard Nixon, but you get the point.
Other listeners thought that the gladiatorial contests should not be called debates since there was not much interaction going on, with each leader downloading soundbites rather actually debating. Others of a more nationalist disposition think that three leaders aren't sufficient. They want to know why their man wasn't up there on stage.
On the morning after the second debate I put some of those concerns to the deputy Head of BBC News Steve Mitchell:
Roger Bolton presents Feedback on BBC Radio 4
If you have any questions for the outgoing Controller of Radio 4 or for the editor of the Archers please let us know. Both will be coming on Feedback in the next couple of weeks.
Listen again, get in touch with the programme, find out how to join Feedback's listener panel or subscribe to the podcast on the Feedback web page.
Listen again to the first and second leaders' debates (as part of The World Tonight's coverage) here. Watch the first debate at ITV.com and the second at Sky.com
The picture shows the famous 1960 Nixon-Kennedy TV debate. It's from the Wikimedia Commons.