Jalalabad university bombing hits 'imam of peace'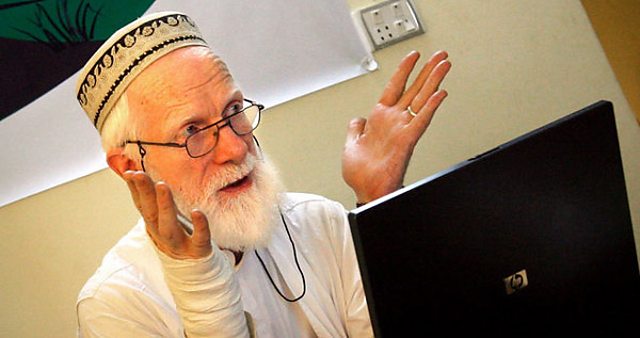 Editor's note: Nadene Ghouri's Radio 4 programme about John Butt from a couple of weeks ago now has a melancholy postscript. On Tuesday, bombers struck the university he founded in Jalalabad. The programme is no longer available on the iPlayer so I've republished it here, in full. In this blog post, Nadene brings the story up to date - SB
An Islamic university run by former British hippie turned Islamic scholar John Butt, was bombed by the taliban on Tuesday. The attack came just two weeks after John Butt was profiled on Radio 4 in My Story - the Imam of Peace (listen to the whole programme below).
The programme revealed how John, now 60 years old, had gone to live in the often lawless Afghan/Pakistan border region in 1969 as a 19 year-old hippie. When the other hippies returned home he stayed on living among the Pashtun tribes who inhabit the region. He adopted the Pashtun's ancient tribal codes and became fluent in the language. He converted to Islam and is the only Western man ever to graduate from South Asia 's largest Madrassa, Darul Uloom Deoband as a fully fledged Imam.
However, the attack on the university, known as Jamiyat'al-Uloom, was not entirely unexpected. Over the last few weeks so-called night-letters (threatening letters sent at night and in secret) have been distributed in Jalalabad targeting those who work at the university, warning students not to attend and denouncing John Butt as a Christian missionary.
John Butt told the BBC he had welcomed the awareness the radio programme had created about the university and did not think airing the programme was related to the attacks:
Unfortunately anyone who works for peace in Afghanistan is going to be subject to attacks like these. But the voices of peace and moderation must be heard, whatever the personal risks.
During the making of the programme, he said:
We are trying to strengthen Islamic learning and promote a peaceful non-violent theology. To take a life is a sin. I look at those who do that so easily and wonder how far removed from true Islam they are.
The bomb, which appeared to have been set off by remote-control, was left in a water-cooler next to the gate of the building. No one was seriously injured in the attack, which caused considerable structural damage. The latest attack comes eight months after an similar bomb attack on a media training centre - also run by John Butt in jalabad.
In My Story John told how in recent years he saw the Pashtun way of life he had come to love become contaminated by a more militant hard-line ideology. He decided to fight back for his adopted culture by mobilsing young tribal men and women to work with him to promote their old culture over newer more hardline ideas; setting up a radio station broadcast messages of peace and solutions to conflict; and spearheading the formation of a new Islamic university to promote a non-violent theology and give a platform to moderates.
But as the hippie turned peace campaigner, his message of non-violent jihad has set him on a direct collision course with the Taliban and other militants who promote holy war, and who now seek to kill him. When asked in My Story if he feared he would be killed, he replied: "You only die once and I could hit by a bus tomorrow. But if I do die in the cause of doing good for humanity and promoting true Islam will be a good death."
Nadene Ghouri presented The Imam of Peace