Some changes to the new site - and a favour!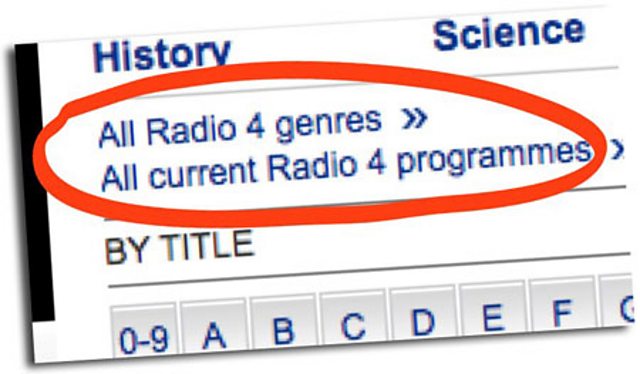 http://www.bbc.co.uk/radio4
Thanks once again for your feedback. We've had a busy couple of weeks bedding down the new site and we're making some small changes to our homepage today, informed by your comments.
One of the main pieces of feedback has been the request for a page listing all currently available programmes, especially those which are available to "listen again". To address this, we've made the following changes:
We've added a link in the Find a Programme panel at the top of the homepage to a list of all programmes that are currently available on iPlayer and those scheduled in the next week. (We'll need to review the layout of this panel in due course).
The genre links in this panel now take you to similar lists (all programmes from the past week and the week to come), rather than just offering the last five and next five programmes.
We've added a link to all programmes currently available in iPlayer at the bottom of the Popular Programmes list.
We're planning further revisions in the weeks to come and I'll update you with changes as they're confirmed. I'll be grateful for your ongoing feedback as we develop the website.
On another note, I'm delighted that our World on the Move website has recently been nominated for two awards.
The Sony Radio Academy Awards are known as the Oscars of the UK radio industry and we've been shortlisted for the Multiplatform Radio Award.
And the Webbys claim to be the leading international awards honouring excellence on the Internet. The International Academy of Digital Arts and Sciences selects the award winners but nominees are also eligible to win a Webby People's Voice Award.
If you enjoyed the World on the Move website, we'd be very pleased if you'd cast your vote. To do so, you'll need to register at the Webby Awards People's Voice web site. Voting closes on 30 April.
The full list of all nominees is available here.