More on the Radio 4 schedule changes: Short stories: Update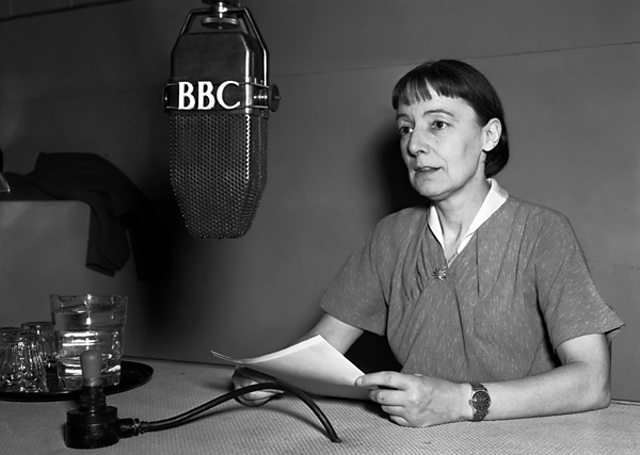 From 1949, archive caption reads: "Miss Stevie Smith, poet, one of the finalists in the BBC Third Programme Short Story Competition, reading her story Sunday at Home"
Short stories and contributions from writers are an integral part of Radio 4's programming. This week Michael Morpurgo gave, I believe, the most moving contribution to our coverage of the tragic events in Norway in an eloquent essay in which he spoke of Beowolf and the meaning of that ancient legend of struggle set in Scandinavia. One of the commissions I am most pleased with since coming to Radio 4 is the series of Letters to the Arab World, commissioned from Arab writers and broadcast in the early days of the Arab Spring. If this appeals to you I recommend another series of letters, again by leading writers, which will be prominently scheduled at the tenth anniversary of 9/11, entitled The 9/11 Letters. We have already broadcast two of the Booker prize longlist titles and there are another two to look forward to in August and September: A Sense of Ending by Julian Barnes and On Canaan's Side by Sebastian Barry. We are and will remain the largest commissioner of short stories; we broadcast 150 original single plays a year, 40 of which are by new writers to radio; we broadcast three dramas a day as well as a raft of regular arts programmes such as Front Row, Open Book, Saturday Review and many others. My commitment to broadcasting new writing is underscored by the launch this coming weekend of a new arts commission: a poetry workshop presented by the poet Ruth Padel. All this is alongside regular daily adaptations and dramatisations of classic and contemporary literature.
There seems to be widespread misunderstanding about the level of reduction in the number of short stories to be broadcast on Radio 4 from next April. For those who are interested in the details they are as follows: as part of an Autumn schedule change I am proposing to extend The World At One by fifteen minutes. One of the results of this is that I have had to reduce the number of scheduled short stories. I have already said that the reduction will be about a third but let me be more precise. The number of stories will be reduced from 144 to 104 next year from April. I will broadcast in addition (and with great pleasure) the 5 shortlisted stories from the BBC National Short Story Award. Radio 4 Extra will launch in October a new strand of programmes highlighting short stories which will draw from the rich archive as well as commissioning some 25 new stories from publications. Thus for the listener the total loss of scheduled short stories across both networks is approximately 10. I have invited the Society of Authors to talk to me today in order to clarify our plans and I have already met Bernie Corbet from the Writers' Guild.
Arts and cultural programming, as all Radio 4 listeners know, are at the heart of our schedule and I plan to keep it that way.
Gwyneth Williams is Controller of BBC Radio 4 and BBC Radio 4 Extra
The full caption for the picture from teh archive reads: "BBC Third Programme Story Competition: Stevie Smith : Sunday at Home 20/04/1949 © BBC Picture shows Miss Stevie Smith, poet, one of the finalists in the BBC Third Programme Short Story Competition, reading her story Sunday at Home, broadcast on Wednesday, April 20th 1949."