Questions Questions: "If you have an allotment by a busy road, are the vegetables still safe to eat?"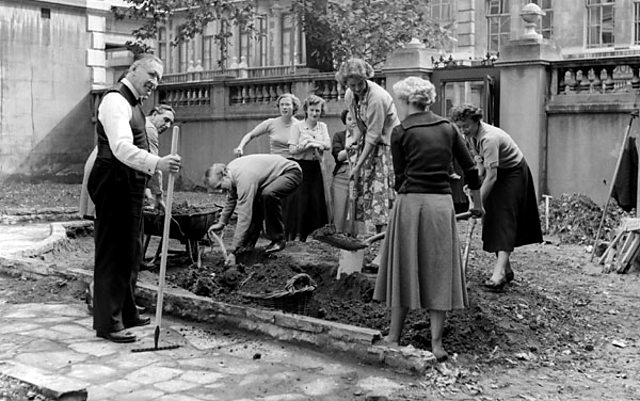 This week we almost lost Stewart in the twists and turns of the hedge maze at Glendurgan Gardens near Falmouth. But he managed to find his way out in the end and was joined by one of the world's most famous maze designers, Adrian Fisher, to explore the role of mazes throughout history.
Listener Darren Cash was gazing at the sky when he spotted beautiful rays of light that appeared to splay out from just behind the clouds. Stewart was joined by Dr Paul Kinsler from Imperial College London to explain the phenomenon, known in physics as crepuscular rays.
Our technological whizz kid Dave Dodd visited a data centre with computer networking expert Andrew Smith to find out how many power stations it takes to keep the internet going.
We got our hands dirty at the Roman remains at Verulamium in St Albans to ask: Why is archaeology underground? Did the earth swallow ancient sites?
And listener Morag Williamson, who was unamused by the memory of a laughing record she couldn't quite remember the name of, sent us off in search of the 78 that had tickled her all those years ago. Using our powers of deduction, and the tremendous response from you on the Radio 4 Facebook page, we managed to get her laughing again.
On Thursday 18th August, in the penultimate episode of the series, we'll be exploring a subject that is no laughing matter - nits. Is it possible to drown them? Stewart risks wrinkly toes to find out.
There will be more hairy moments (oh dear), as Emily Williams looks into the history of hair jewellery.
We'll also be finding out if there is any truth in the old wives tale: When swallows fly high, the weather will be dry.
And we shed light on our ancestors' drinking habits and find out what the medical effects were of drinking alcohol to stay hydrated when water was too polluted to be safe.
If you'd like to help us with the following problems, do get in touch:
Question 1: Why were many ancient Greek theatres situated by the sea?
Question 2: At what point would a man holding onto the back of speeding car become airborne?
Question 3: If you have an allotment by a busy road, how does it affect the plants? Are they still safe to eat?
As always we'd love you to send us your questions. The series is fast approaching its end so hurry!
Please send them to questions.questions@bbc.co.uk, call us on 03700 100 400, or leave them as comments on this blog.
We also welcome questions and comments on Facebook and Twitter using the hasttag #R4QQ. You can also post your comments here on the blog or reach us directly using the Contact Us form.
The Questions Questions team
This week's picture is from the BBC archive. Caption details: "BBC Town Garden 01/01/1952 © BBC - BBC staff volunteers digging in the BBC Town Garden in Cavendish Place."