What does a revolutionary look like?
What does a revolutionary look like? I have to admit I did have some preconceived ideas on that front, which involved Che Guevara T-shirts, miscellaneous bits and bobs of clothing from army surplus shops, and yes, a bandana. All of this was of course kicked into the long grass as soon as I met Hana, Sharif and AbuBakr.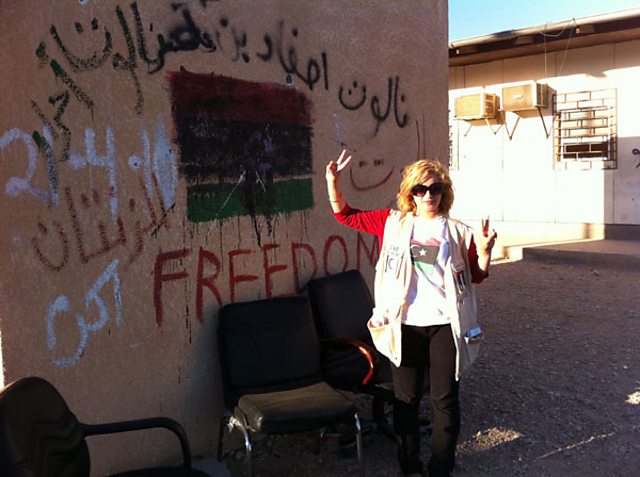 Hana Elgadi taken at the Dhaiba-Wazin border at the beginning of May.
I'd heard from friends and contacts that young British Arabs were being inspired and moved by events in the Middle East and travelling out there to take part. Weeks were spent phone bashing talking to lots of people trying to get a sense of how many and who was going out to countries swept up in the Arab Spring. There were days when I'd be given a number to call, then speak to the person only to find out that they were off to Benghazi, Tunisia or say, Egypt the next day.
It was a combination of luck, timing and hardwork that I got to meet and interview Hana, Sharif and AbuBakr, and as it turned out they were perfect for the documentary. I couldn't have asked for better.
So what do revolutionaries look like?
Remember I'd not met any of them before and the relationship I'd built up with them was totally phone based. So let me introduce you to the ones I met, and I'm hoping they'll change any stereotypes you might have.
When Hana opened the door I was greeted by a vivacious peroxide blonde. She played loud trendy music for me, the bands and singers she listens to when she's in Libya, to help keep her morale up. I pretended to know who the bands are.
In between packing and buying last minute supplies before she went back to Libya , she'd agreed to see me. Her attire? Skinny jeans, trendy T-shirt, keffiyeh and high heels.
Sharif, is... cool. (Is it cool to say that anymore?) But you know what I mean. He plays the oud, a traditional Egyptian instrument, and plays it like a professional. He knows all about music, art, films. He has a deep voice, ideal for a late night broadcaster. And even after a long day at work, he agreed to see me and tell me about his time in Tahrir square. I also got to meet his father, who I could tell was quietly proud of what his son had done. His attire? Chic office wear.
And then there's AbuBakr. I met up with him at his student digs. He got caught up in a violent demonstration in Yemen. He's in his flat telling me about bullets whizzing past and people being killed - and then he goes on to talk about getting his dissertation in on time.
He was buzzing with energy and excitement and keen to talk about events all across the region. He's someone who talks knowledgably about the Arab spring. So much for student apathy. His attire? Blue T-shirt and baggy jeans - classic student garb.
I loved Hana, Sharif and AbuBakr's passion to be in their parent's country of origin, to be part of a revolution, for believing that they can change things. They had the courage to leave their jobs and uni and step into the unknown. Anything could have happened, nobody knew, or knows even now, how events are going to turn out in the Arab spring.
Zubeida Malik presents The Call of the Arab Spring