In Our Time: Shahnameh of Ferdowsi
Editor's note: In Thursday's programme Melvyn Bragg and his guests discussed Shahnameh of Ferdowsi. As always the programme is available to listen to online or to download and keep - AI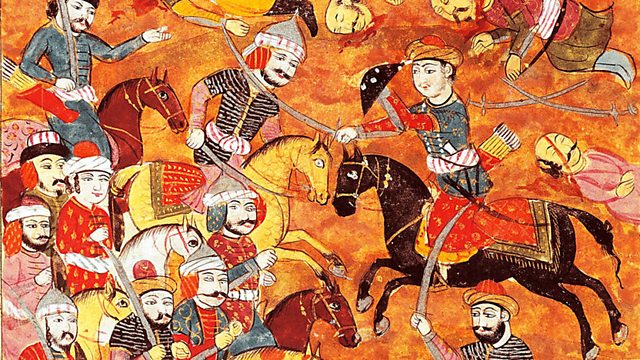 Shahnameh of Ferdowsi (for In Our Time)
Hello
No time to stay and chat after the programme.  Had to race to north London to do an interview with David Hare.  Loved the reading in Persian.  Stupidly, failed to ask for a translation.  The passion of the two Iranian women about their country and its literature was very moving.
David Hare - a gift in the class of Dennis Potter to interviewers.  We concentrated on the work he'd done this century which meant quite a few of the Verbatim plays.  I don't like the word verbatim.  It implies a mere copying down.  Hare does much more than that.  He transforms interview comment and written evidence into the shape of a play, and when you read the plays years after you've seen them, they have all the resonance of theatre and fiction and not of journalism and fact.  There's a sense in which making an arts documentary has a kinship with what he does and, at its best, some arts documentaries can reach the level of resonance and metaphor that he brings to his work.
The thing that's good about Hare, and links in with Potter, is that he is unafraid.  It's not so much that he lashes out, but he goes for his enemies with humour and vigour and sometimes with vehemence, but he always hits his target.
After that, a walk on Hampstead Heath which is my native ground nowadays.  It's an extraordinary asset to London.  The northern long part almost empty, cold, barren trees on all sides.  Nothing like as cold as the past few days in Germany and Holland and Belgium, where I was making a film on William Tyndale for BBC Two.  Arguably, in my view, one of the greatest - if not THE greatest - Englishmen.  The main begetter of the King James Bible (almost all of the New Testament and significant parts of the Old) and, as it were, by accident, one of the two pillars (along with Shakespeare) of the English language.  His eleven years of self-exile, often penurious, friendless, hunted, stalked by spies from the appalling court of Henry VIII as well as the court of the Holy Roman Emperor and the Vatican itself, are unbearable to think about.
We saw some wonderful things.  The only remaining complete edition of Tyndale's 1526 translation of the Greek New Testament.  Thousands of these books were burnt on the steps of the old St Paul's Cathedral.  We trekked through the back alleys of Antwerp where he slipped his foes and where, sadly, eventually, he was betrayed by an Oxford graduate who gulled him.  Went to a printing house where he had the Bible printed... it's an amazing education, this sort of thing.
And so to Leeds to have dinner with Chris Sheppard, the Librarian who has nurtured Leeds University Library into one of the very best in the country, and a long, literary evening.  What a pleasure.
Best wishes
Melvyn Bragg
Download this episode to keep from the In Our Time podcast page
Visit the In Our Time website
Follow Radio 4 on Twitter and Facebook