Editor's Note: You can listen to Feedback online or download it here.
As presenter of Feedback I have of course no public views about such a contentious political issue as Scottish independence and in this week's Feedback programme I have tried to remain dispassionate, but I  confess I am far from disinterested.
I was born and brought up under 10 miles south of the Scottish border, in Carlisle. My home city is full of Scottish residents as well as Cumbrians, and each day thousands of those from the northern side of the border come down the M6 to work there, passing the castle where King David of Scotland died when Cumberland was part of Scotland and where Mary Queen of Scots was held captive after fleeing from the Scottish nobles by sailing across the Solway.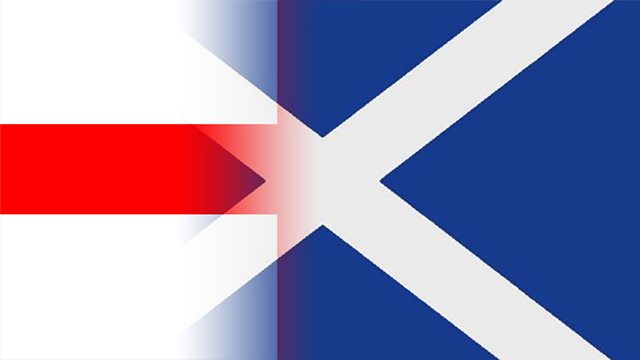 We have a complicated history and a complicated relationship with England as well as
Scotland
. We are much, much closer to Edinburgh and Glasgow than to London or even Manchester, Liverpool or Leeds. And we are a mixed bunch with English, Scots, Welsh and Irish relatives and quite a few Poles as well, the result of a very brave Polish air squadron being sent by the Solway after suffering terrible losses in the
Battle of Britain
. The south east of England is a long way away and often seems like another country, much richer, more crowded, less British, and sucking in everything to what
Samuel Johnson
called the Great Wen, London.
By contrast, Dumfries, Annan, Kelso and Roxburgh are a Sunday afternoon's drive away and culturally closer to us than most of the rest of the UK. House prices, unemployment and wage levels are also much more closely aligned up north.

Though I now live mostly in the south because of work, I think of myself as Cumbrian and British and European, and when next Scotland beat England at rugby (it may be a long time) I will not feel too unhappy, particularly if it is a player from Hawick who scores the winning try.

I am also aware that the last time England and Scotland were not united it was hell to live on the Borders. There really was a debateable land, which neither crown could subdue. This was Britain's equivalent of the Wild West and the killing here went on longer and was even more brutal. Bastles and Peel towers testify to the constant vigilance needed to survive.

Tourist agencies may try to sell the period of Border Rieving as a romantic one, and good luck to them, but in fact, after three hundred years of conflict, including the Anglo Scottish wars, border rustling, blackmail, and murder, hardly a domestic building was left standing, and most of the castles were ruined. The poor, as usual, got poorer, if they survived at all.

It always seemed to me ironic that Edward 1st and Robert the Bruce were as much French as English or Scottish and, arguably, were concerned with familial prosperity as much as with nationalist identity.
700 years after Bannockburn and 400 years after the union of the two crowns, the question of an independent Scotland is on almost everyone's lips once more as the September vote gets closer.
This week in Feedback we arranged a radio swap between Katherine Wilson from Nottingham who changed her much loved 'Today' programme for 'Good Morning Scotland', and Edward Harkins from Glasgow who did the reverse. Joining us in our discussion was Jim Naughtie who has homes in London and Edinburgh and presents both programmes. I was the, I hope, dispassionate chair.
This one, as they say, will run and run, but imagine you are a Scot who has lived most of your life in Scotland but because you have now moved to work in London, do not have a vote. I feel pretty bad about not being able to vote in a referendum which will, in effect, decide the future of the United Kingdom. Imagine what such an expatriate Scot must feel!
Roger Bolton
Roger Bolton presents Feedback on Radio 4.
Listen to this week's Feedback