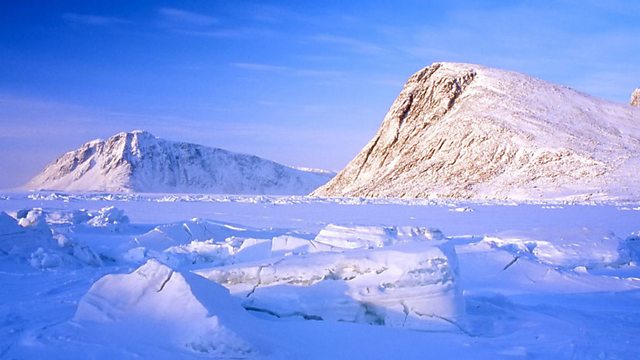 Ice Ages
Hello
It was a close call.  After the programme Jane Francis and Carrie Lear continued to talk about the climbing count of CO2 which was pumping up global warming, in their opinion, which would lead most dramatically to mass flooding.  On the programme Richard Corfield did not join in very enthusiastically, pointing out that the CO2 count had been at least twice as high quite recently (geologically speaking) and even higher than that a bit before recently.  The situation was beginning to develop into a relevant, contemporary conversation about climate change and the final bell was a merciful release.  There was no thought of the ingenuity of men and women combating what would be a gradual increase (if it happens) of rising sea levels - we could have looked at the Dutch in the sixteenth century onwards.  But I strayed from my task.
The grim conclusion of Jane Francis was never to buy or rent a house on a flood plain, always to buy or rent a house on a hill, or take a tent, or anything, as long as it's on a hill and, I think Richard Corfield added, fortify it.  Well, well.
Left Broadcasting House to see a rough cut of a film about David Hare.  The last time there was a television profile of him was in 1983 on the South Bank Show.  His eloquence and his thoughtfulness are almost in a league of their own.  We talked about his plays over the last ten years, concentrating especially on the verbatim plays - Stuff Happens, etc.
Working in a cutting room with a director and a film editor is as good as it gets for me in television.  It has an intensity comparable to that which is called for on In Our Time.  Shaping, shaving this sentence, reorganising, finding the right length and the pulse of a particular episode in a film or a scene.  There's nothing as satisfying as thinking you've got it right and seeing in front of your eyes the results of what you think is right.  Of course, in a few days' time your view might change, but as a thing of the moment, it takes some beating.
Then off to do some commentary for a film on Alfie Boe - an extraordinary fairytale story which seems to be one of the regular performance-related stories of the last hundred years, i.e. a variant on rags to riches.
Then a decent stretching of the legs before one of the great pleasures in life - lunch with an old pal.  In this case an old and close pal and the unique pleasure of total trust, non-agenda, ease.  One of the great benefits of ageing.
And then a lovely walk round Green Park in the sun, past the monument to Bomber Command through whose columns you can see Number One, London, the house of Wellington.  War beckons to war across Hyde Park Corner.
And then down into St James's Park with the ducks enjoying the sunshine.  Or do they?  We'll never know what they think or even if they think as we think.  Sublimely they take no notice of us except when we offer them crumbs, but that's nothing more than duck-love.  An old and rather large man, a man who came straight from the Orthodox streets of Jerusalem, pushing a small child in a pram and beaming like someone in an extremely happy novel.  He stopped the pushchair, pulled out a carefully wrapped piece of cake and offered it to the child.  He dropped it and picked it up, and with just the slightest glance round gave the child back the cake, which after so much care had been - well, contaminated is too strong a word but let's say desterilised by contact with the ground.  A young woman with her boyfriend/partner epitomised Valentine's Day.  She, dressed in tight black with red tulips, earnestly photographing - yes - the ducks, and he, hovering to put his arm around her when she had finished this exacting task.
The area around Westminster Abbey and the Houses of Parliament quite remarkably free of people today.  Is everybody preparing for Valentine's night, or is this the subdued beginning of the Easter journey after Ash Wednesday?
Best wishes
Melvyn Bragg
Download this episode to keep from the In Our Time podcast page
Visit the In Our Time website
Follow Radio 4 on Twitter and Facebook