Ed's note: Radio 4's Bookclub is on at 4pm this Sunday 1st April and is repeated on Thursday 5th April at 3.30pm. You can also listen online after broadcast or download the podcast - CM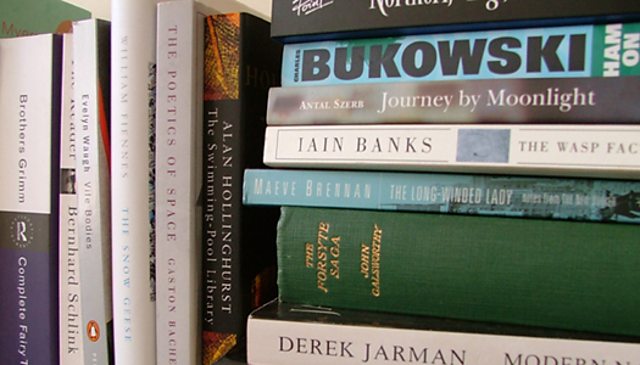 Bookclub has reached something of a milestone. After this coming Sunday's programme on April 1, with Anne Enright discussing The Gathering, our entire archive is going to be available as downloads for all of you. And even better, there is no window of opportunity that will close : all the programmes will be available from now on for anyone who wants to hear them. Podcasting, if you haven't used the procedure before, is very easy indeed. Simple instructions are on the website.
This is exciting news. In the past, programmes would exist only in the BBC archives. To have them on audio library shelves, so to speak, is a great breakthrough, and the occasion has caused me to think back over the history of the programme, to 1998.
Our first guest was Sebastian Faulks, talking about Birdsong, his First World War story of love and loss, recently serialized for BBC Television. We'd asked Sebastian to do a dry run, to try out the format, and discovered that we had to find a way of getting a group of readers to relax and not to freeze in the presence of an author whom they so admired. We opted to let them mingle with the writer for a few minutes before the recording, and decided that it was important that we never had a group of more than about two dozen. Anything bigger would become an audience rather than a reading group. And that's how it has stayed. Our second attempt with Sebastian was a great success and convinced us that we had found a format that would work (as with everything, the trick was to keep it simple). And that was the start of everything - more than 160 conversations. I'm glad to say that I've been able to be in the chair for every one, although there have been occasions when it's been a close call...the demands of the news sometimes causing a little awkwardness. But we got there.
What a glittering galère of talent those authors are. So many are memorable - Joseph Heller talking about Catch 22, Muriel Spark on The Prime of Miss Jean Brodie, J.K.Rowling on the first Harry Potter novel, before the mania had really got a grip. My three producers - first Olivia, then Karen, and now Dymphna - have worked hard to keep the programme fresh, finding a blend of authors that would keep listeners alert month-by-month and suggesting a range of reading that would mix the familiar with the new, the light with the dark, the long and the short. We've been so proud to bring you heavyweight novelists from home, and just as importantly, quite regularly from abroad - Mario Vargas Llosa, Richard Ford, David Grossman, Jane Smiley, Yann Martel, Jung Chang and Thomas Keneally among them. I think we can fairly say that we've delved deeply into our contemporary literary culture - the generation of Margaret Drabble, Margaret Forster and Penelope Lively side by side with younger writers like Andrew O'Hagan, Zadie Smith, Sarah Waters and - about to come up - Ross Raisin.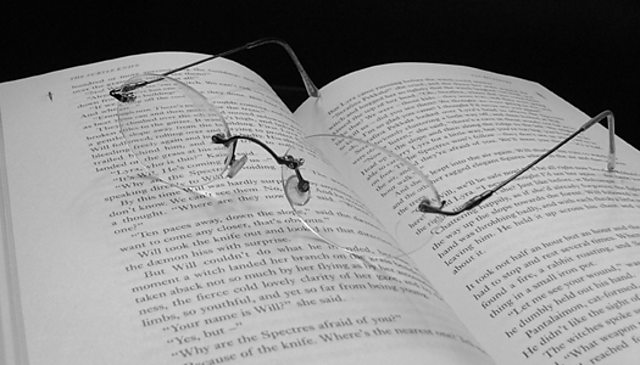 Naturally, I've been thinking about at some special moments. William Trevor, the sublime Irish writer, in Dr Johnson's house just off Fleet Street, where the floors creaked so spectacularly that the recording took twice as long as usual, Alan Bennett at the British Library, where he was so entranced by early scripts of Beyond the Fringe, winkled out by the archivist, that his natural reserve disappeared and he opened up wonderfully. Clive James speaking movingly about his mother, and his guilt, Douglas Coupland with tears in his eyes as he spoke of past traumas, and some famously reticent writers responding with enthusiasm to a group of readers who, to their surprise, knew the book backwards. I'm thinking particularly of John Irving, Paul Auster, Jonathan Franzen and Martin Amis. Only one expressed unhappiness about a question (she thought she could tell the readers what they mustn't say...and she failed). Antonia Fraser giggled like a very grand schoolgirl, Lynne Reid Banks was swept back two generations to the writing of The L-Shaped Room, John le Carré gave us his own portrait of George Smiley (and Alec Guinness) and Armistead Maupin took us to San Francisco in the grip of a famous social revolution. Hunter Davies swept a generation of older listeners back to their youthful days of Beatlemania (we recorded the programme on the site of The Cavern in Liverpool) and in a prison in Surrey, Tony Parsons found a group of prisoners who were willing to use his book, Man and Boy, as a reason to talk about their families and the experience of leaving them.
As a sucker for a thriller, I'm also glad we've had P.D.James, Colin Dexter and Donna Leon and the great Elmore Leonard, as well as Ian Rankin and Henning Mankel. Where do I stop?
Naturally, we are still on the trail of some writers. Wouldn't Philip Roth be fun, if you see what I mean? And I'd give anything to speak to James Lee Burke, one of my favourite American writers. Seamus Heaney, of course. Poetry has always been an important strand in Bookclub - we've managed to turn regularly to some of our most interesting poets, and I will never forget recording with Wendy Cope in the basement of Broadcasting House with the sight, on screens, outside the studio of New York in rubble - it was the afternoon of September 11, 2001.
Enough, however, of memory. The archive is all yours, and available from next week. Dig and delve and enjoy it all.
I should say a word about Anne Enright. The Gathering won the Man Booker Prize in 2007, in a year which seemed to promise a win for Ian McEwan (On Chesil Beach) and it therefore became a book which attracted a wide following. It is lyrical, with a beautifully spun story, but it also travels to dark places. The Hegarty family is gathering for a wake in Ireland, after the suicide of Liam, one of twelve children, in the sea off Brighton. We're taken on a journey by Veronica, his sister, who tells the story and reveals a great deal about the working of memory - what is true and what is a dream? She's recalling sexual secrets from childhood, and no-one can read it, I think, without recognising how complicated the unravelling of such thoughts and preoccupations must always be. Anne spoke movingly about her characters, about the Irish experience of a previous generation - when so much, she says, was not talked about - and also about her way of writing. The Gathering took three years of constant work - writing, revising, polishing, cutting passages and then restoring them. I was interested that she used the word 'epic' for the book, because that is precisely what it is, although it is quite short. The sweep, the deep involvements of the characters one with another, mean that it takes on the feeling of a much longer story. Perhaps it is the presence of death - and the summing up of several lives - that imparts that feeling. I don't know. Certainly it was a memorable conversation, rich and funny, revealing of the writer's craft, and deeply humane. That's true of so many editions of Bookclub, thanks to the warmth and the collective insight of our readers.
Do try to come to a recording if you can: our next is with Michael Ondaatje on 17 June in Central London - talking of course about his Booker Prize winning novel The English Patient. Instructions on how to apply are on the website.
And enjoy the archive. It is precious to those of us who've looked after the programme for all these years, and I hope to you too.
Happy reading
Jim
Jim Naughtie presents Bookclub