Joan Bakewell on George Orwell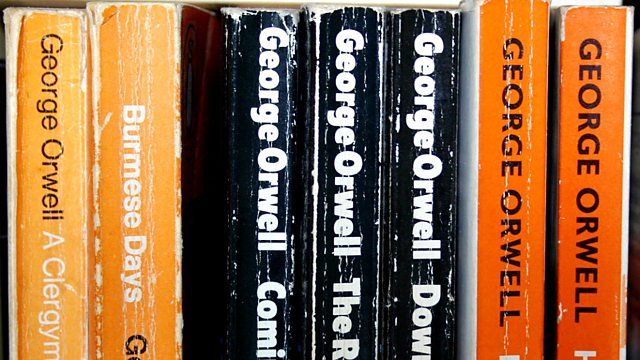 I know there are brand new editions of Orwell's books coming out. But for me they won't be necessary. Having been invited onto Start the Week to talk about his essay on the English language I went in search. There on my shelves is a row of orange paperbacks the earliest, Nineteen eighty-Four dating from 1954, most of them coming from the 1960s, the illustrious selection topped off by Christopher Hitchens' fine tribute, Orwell's Victory published in 2002. The ageing list tells me that Orwell has always been there in my reading. His weren't the kind of paperbacks you buy, read and throw away. I think a couple may have been picked up for a few pence on second hand stalls when others were foolish enough to discard them. The older books have yellowing pages, their spines cracked from reading. The cover of Decline of the English Murders has a portrait of Orwell by Peter Blake taken from the standard photograph by Vernon Richards that appears on the rest. It is a tough craggy face, reminding me of Beckett. He is never smiling.
I think I have learned a lot from him over the years.  He has helped shape my judgements, if not always my prose. He is a touchstone of good journalism, wise comment and a brilliant and inspiring creative imagination. It is the combination that makes him unique. There have been good novelists, and incisive commentators. But rarely have the skills required for each come together so triumphantly. His views are hard to label, but never hard to understand. He does not fit into cliché categories, but he leaves you in no doubt what he thinks. He has his weaknesses: he consistently refers to the gay world with contempt and seems to dislike feminists. Even so I think he deserves a statue in his honour.  
Start the Week clip: Joan Bakewell discusses the need to add imaginative ideas to political discourse.