In Our Time newsletter: The Siege of Tenochtitlan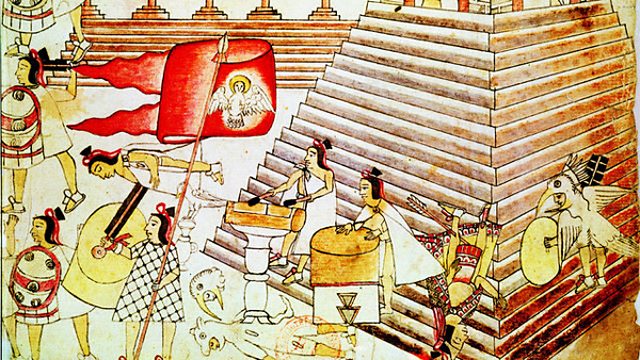 There was rather a forceful discussion afterwards, mainly between Alan Knight and Elizabeth Graham.
The gist of it seemed to be (I had to pop in and out of the studio while it was going on) that Elizabeth thought that the reason for the huge losses in battle of the Aztecs was that they insisted on not killing, but trying to take captives by mere maiming. This was not only to increase their status, but also because they were in the game of seeking hostages for tributes. She compared it with Iraq where there was no attempt to capture territory, but the attempt was to capture the elite or the resources.
On the other hand, Cortes was also trying to capture the resources and the elite... As I said, I was in and out of the studio.
At one stage Alan Knight spoke forcefully about the impact of firepower in warfare, and pointed out that Kitchener at Khartoum had a killing ratio even more extreme than that in Tenochtitlan.
I'm dictating this while lying on a bed in a hotel in the middle of Glasgow, preparing to go and give the Alexander Stone Lecture. I had to come here by plane, which reminded me how much I hate internal flights on planes. I wanted to set off from Euston and toddle up the west coast to Glasgow in about five and a half hours, and once north of Wigan (a splendid sight from the railway line) look out on God's own countryside, and with plenty to read and the odd sandwich, not a bad way at all to spend the day.
Instead of which it's hustle, security, queuing, waiting, queuing, hustle - okay, privileged to do this sort of thing and, okay, we need security. But, but...
After the programme I went down to the Directors Cut studios to put the commentary on for the last of the three programmes we're making for BBC Two. They've taken a heck of a lot of making. I think they're coming out in January. At the moment we have the clumsy title of Class and Culture 1911-2011. I think the three directors and myself are going to hold hands in a circle, somewhere quiet and dark, and hope that we are granted a better title. It's been fascinating to try to interconnect the two, but far, far more difficult than I thought it would be at the start. The most difficult thing of all is that there's hardly anything absolutely definite you can say. It is full of contradictions and fuzziness and qualifications. But once we got used to that, it was a tantalising project.
Then off to the airport (as said) and here to Glasgow.
Haven't seen the ducks in St James's Park for a long time. The few open air outings I've had in London have been walking around Hampstead Heath. Manage to get an hour or so in many mornings. The last few mornings have been glorious October autumn. The trees on the Heath still in full leaf (back in Cumbria the trees are swept bare of leaves because of the high winds and now their branches scratch the louring skies) and an air of frolic about that little urban Eden.
Yesterday morning two young women steamed past, dressed to sweat. here are other ladies who walk with many dogs and have conversations which you have to circumnavigate. ulian Barnes was sitting on a bench doing the cryptic crossword puzzle and we walked along together for a while. I'm very pleased he's won the Booker. I've known him for years. First met him in the Pillars of Hercules in Greek Street when he and I both wrote for Ian Hamilton's magazine, The New Review. He peeled to the east, I peeled to the west and now I'm about to have a quick shower and peel off to Glasgow University to talk about... the impact of the King James Bible? Yes, that's the one.
Melvyn Bragg presents In Our Time