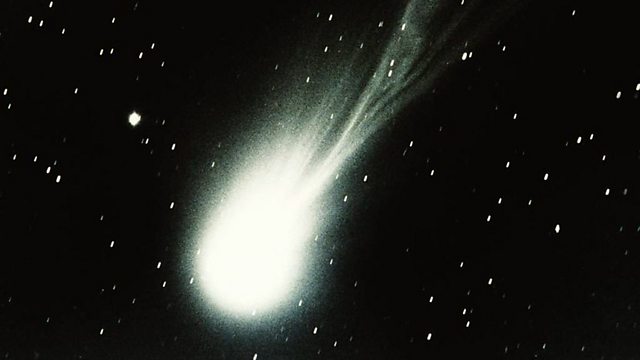 Comet (In Our Time)
Hello
Happy New Year!  Most of mine was spent in Cumbria where it rained, and when it wasn't raining it was pouring, and when it wasn't pouring there was a blizzard.  And, of course, we had a terrific time!
Nothing better than storming around Buttermere or trying to get up Skiddaw when the wind is determined to push you backwards.
I learned a new word this morning: panspermia, which is the notion that life is everywhere in the Universe.  This pushes back the origin of life on Earth as being the origin of Life.  It was much embraced by those who wanted to push the origins of life back further and further, so it ended in a point which could be called God.  Certainly, when I made the intervention about Fred Hoyle I was thinking about that, although I was not thinking about God.  Nor, I think, did Hoyle, although he respected the best of religion.  I knew him and I remember him at one stage talking about extraordinary individuals who could not be analysed in terms of their earthly existence and they included Jesus Christ and Mozart.
There was a brisk discussion afterwards as to what there was out there which could be called life.  I was told there were not bacteria in space, but there were a great number of minerals in meteorites and therefore the argument would be: if there were minerals which could lead to physics, and heat which could lead to chemistry, and chemistry which could lead to biology, what would prevent there being life in the comets which hit this planet before it properly became this planet?  "What is life, then?" said Don and we moved on.
Yesterday I was doing some filming on William Tyndale in and around St Paul's Cathedral.  We walked up to St Paul's, unaware of the fact (were you?) that it was Plough Wednesday.  Outside St Paul's were some massive combine harvesters, painted in wonderfully bright nursery colours.  There were real sheep and real lambs and real geese and hens around too (and to plump out the numbers there were cardboard cutouts of cattle and hens and geese and ducks).  They didn't seem to be freezing as we were.  After filming a little outside St Paul's and then for longer than anybody intended on the Millennium Bridge where we practically froze to death, went back to do some evening shooting at St Paul's and I walked straight into Choral Evensong in aid of the Addington Fund who were "bringing the countryside to the city".  To walk into St Paul's with that choir in full throat, at Evensong, on a winter evening, was quite extraordinary.
At present, busyness is all.  I'm coming to the end of the filming of Tyndale and beginning a film on the 'real' Mary Magdalene - starting with portraits in the National Gallery on Tuesday evening and then off to Israel at the end of next week for six or seven days.  There's so much to catch up on really, especially about the Culture series, but it'll have to wait because that's quite enough for Ingrid for today.
Best wishes
Melvyn Bragg
Download this episode to keep from the In Our Time podcast page
Visit the In Our Time website
Follow Radio 4 on Twitter and Facebook