Throwing caution to the wind in 'I, Claudius'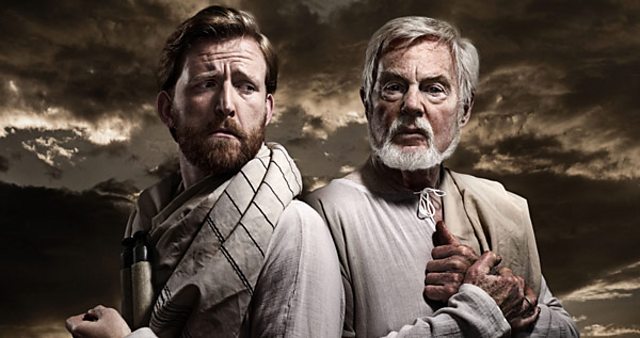 Editor's note: this post by the lead in Radio 4's new Classic Serial, 'I, Claudius', starts with a clip from the drama - SB.
I was eight when 'I, Claudius' first aired on the BBC in 1976. It remains burned on my brain as the first televisual event that I recall. Of course I was far too young to be allowed to watch all or indeed any of its vices and excesses, and I remember it principally for two reasons; because I watched what I did from halfway up the stairs through a gap in the living room door; and for Derek Jacobi.
Derek's performance catapulted him into public consciousness, and to an eight year old boy who already dreamed of being an actor it made one thing abundantly clear; a character actor can have just as much fun as a leading man. Claudius is one of those roles that makes an actor jump for joy, because you can be the fool, the schemer, the wise man, the idiot, the villain, the hero and the narrator all at the same time.
Thirty-four years later, producer Jonquil Panting asked me if I'd like to play Claudius on the radio and I jumped at the chance. I'd had a wonderful time working with her as Jesus in Witness and as Yuri in Doctor Zhivago in recent years and I knew it would be an epic romp. Of course I couldn't get the image or sound of Derek as Claudius out of my head, and was simultaneously thrilled and quietly terrified to be told that he would be playing Claudius' step-grandfather Augustus.
Fortunately, with Derek playing my grandfather it more or less gave me licence not to have to worry if I sounded a lot like him. It's impossible to take on the stammer and not hear Derek's voice in your head, or sense him constantly on your shoulder. In the end it was easier to accept that I was bound to sound like I was impersonating him, throw caution to the wind and just enjoy myself.
For most of the recording period I didn't see Derek because Augustus mostly appears with the boy Claudius, so we only had one full day in the studio together and it proved to be enormous fun. Naturally I told Derek of all my nervousness at playing the character that made him famous, and said how hard it was not to hear his voice. Derek was kind enough to put me at my ease by saying 'Well how do you think I feel? I've got Brian Blessed sitting on my shoulder.'
Tom Goodman-Hill plays Claudius in Radio 4's new production of 'I, Claudius'
Listen to episode one of 'I, Claudius' on Sunday at 1500.
Tom is on Twitter. Follow tgoodmanh
The picture shows Tom Goodman-Hill as Claudius and Derek Jacobi as Augustus.