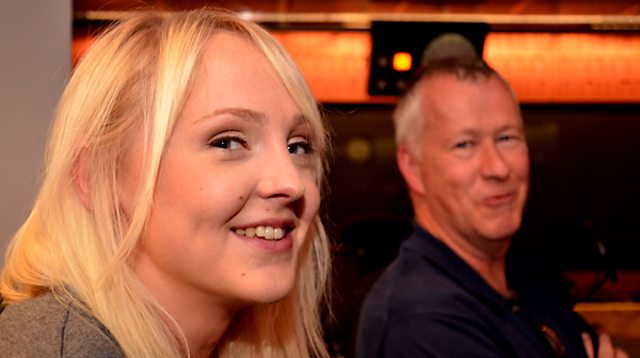 Laura Marling and Front Row's John Wilson (picture by Jerome Weatherald)
For the last three weeks Front Row has been offering daily programme downloads, audio clips and topical highlights of its extensive archive. This has been part of pilot looking at how we could improve our online service for the programme.
We're keen to hear what you think of what we've done, either by replying to this post or via Front Row's contact us page.
You may have already downloaded one of the Front Row Daily podcasts, where we offered the whole of that night's programme to download for free. Previously we offered a weekly highlights podcast. We received a lot of emails and tweets about the daily version, so we know this is popular.
We've curated a week's worth of reviews on the Front Row homepage for an easy, one stop shop to the Front Row verdict on the latest openings and releases, including Stephen Merchant's stand up and the film adaptation of Tinker, Tailor, Soldier Spy.
With Tinker Tailor in mind, author John le Carré was one of our selected interviews from the archive. He joins Leonard Cohen, Jo Brand, Anjelica Huston and Tony Bennett who've all resurfaced on the Front Row homepage.
And we've created some slideshows to illustrate some of our features, including our review of the Degas exhibition at the Royal Academy and our interview with Roger Moore. Mark Kermode talks about the five favourite films you won't have seen in a piece we couldn't squeeze into the programme. And there's a video of Laura Marling performing live in the Front Row studio.
You may have noticed some of the programme segments broken up into a new style on our programme pages - clips as we call them - which are more readily shareable and look neater on the page. And you may have seen Front Row tweeting from @BBCRadio4 using the tag #bbcfrontrow.
Do let us know what you think of anything we've done - what should we keep? What could we do better? And anything we should have tried? All feedback gratefully received.
Ben Toone is a content producer for Radio 4 interactive