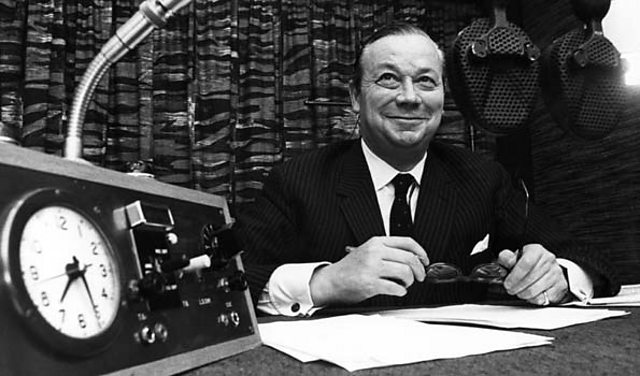 Jack de Manio, 1967: "Radio's breakfast-time look at life around the country and across the world, introduced by Jack de Manio."
You've read those stories about children brought up by wolves (sometimes monkeys). Children shaped by the most unorthodox of upbringings.
I was brought up by Radio 4. I tell people this and they laugh. But I mean it.
I was four when Radio 4 was founded and seven when it was overhauled by Tony Whitby (a man I'd love to have met) and became essentially the station we listen to today. By then I was already a pretty solid listener. The voices of that era - Ebdon, De Manio, Robinson - fill my early memories, triggering regular Pavlovian twitches. Radio 4 is the sound of my childhood.
And as I get older, the evidence that I really wasn't paying attention to anything else is accumulating. I squeaked through school and I didn't so much attend the Polytechnic of Central London as glance off it, leaving hardly a trace.
Radio 4 was with me throughout: standing in for what others were acquiring more formally in lecture halls and libraries, providing the framework for what I now laughingly call my intellect. What I know is Radio 4-shaped.
Consequently I know a bit about almost everything. And the layout of the world in my head came from Analysis, The World Tonight, You & Yours, The Afternoon Play, From Our Own Correspondent, The Week in Westminster. Today of course, but also Week Ending, Stop the Week, The Hitchhikers Guide, King Street Junior, The Archers and the unnumbered documentary features (I believe Radio 4's documentary features to be the secret, intellectual backbone of Britain). Radio 4 is an education in a box, a correspondence course in everything.
For forty years I've soaked up the humane, broadminded, curious, generous, always surprising (and hardly ever pompous, snooty or humourless) chatter of Radio 4, so when I fell into the job of editing the station's blog, I could hardly have been happier. It was like going home. And now that I'm moving on - to edit 'About the BBC' and the blog that goes with it - I'm going to indulge myself and pick out some of my favourite posts from the 437 published here since February 2009.
Right at the very beginning, Mark Damazer used the blog to highlight Jenni Murray's compelling Woman's Hour interview with Sharon Shoesmith, the head of social services at the centre of the Baby P case. It got people talking. It was just what I hoped for from the new blog.
I loved the three posts John Dryden wrote about his amazing location drama production Six Suspects. Between the Spring and Autumn of 2009, the Farming Today bees settled on the blog for a few months and we were all transfixed.
The radio drama team behind Radio 4's awesome Our Mutual Friend lovingly documented the process for the blog. Archers Week was a high point. Sixteen blog posts by actors, writers, producers and engineers. Scriptwriter Tim Stimpson's narrative graph was especially cool.
Our friends at the Radio 4 Appeal made many appearances on the blog and, although I don't have the brass neck to claim the credit, the amount raised by the Christmas Appeal went up by 50% during the period. Draw your own conclusions.
There was the time I hung out in a BH lift with David Cameron and when 6 Music crashed Radio 4 and Lisa Jardine's chocolate cake recipe.
Mark Damazer's departure (and his exit interview with Paddy O'Connell) and Gwyneth Williams' arrival.
The Reith Lectures were always a big deal on the blog, we published Roger Bolton's lead interview from Feedback every week, including unedited versions like this on the departure of Sir Michael Lyons as chair of the BBC Trust. There were many live events - like Eddie Mair's Taliban debate and this Woman's Hour balloon debate (Margaret Thatcher, Barbara Castle and Mary Wollstonecraft were thrown from the basket).
We had cage fighting, A History of the World in 100 Objects (of course), the funkiest documentary in Radio 4 history, Melvyn Bragg's dog Marcel and many bulletins from the management, like this one from Mark Friend about keeping podcasts available for longer.
Ed Reardon gave us his four-part journal of a most miserable Christmas (in character), Thought for the Day's editor told us how she secured The Pope, we heard some brand new skiffle, and learnt the height of Loxley Hall. There were many amazing pictures from the archive.
The Radio 4 blog is a collection of writing about Britain's most amazing radio station - by the people that make it - and I am hugely proud to have had a part in creating it. Please stay tuned under the new proprietor and, if you have been, thanks for listening.
Steve Bowbrick is the editor of About the BBC