Henry William Allingham, 6 June 1896 - 18 July 2009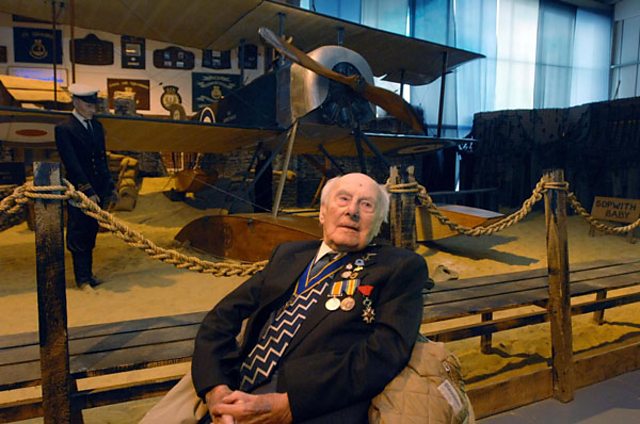 Editor's note: when Alexandra Feachem told me she was making a documentary about Supercentenarians - those remarkable people who live beyond 110 years - and that she was attending Henry Allingham's 113th birthday party, I asked her to write a blog post about it. Sadly, since I asked her, Henry Allingham has died. She's written this appreciation specially for the blog - SB.
When I heard the news yesterday, that Henry Allingham had passed away I felt sad, like the rest of the nation, that someone who had played such an important part in our history was no longer with us. But I also feel sad, because I had the immense honour and privilege to meet Henry in person, just last month, as part of a documentary I'm making for Radio 4 on Super-Centenarians - people who make it to 110 and beyond. Henry was remarkable in so many ways, and not just because of his age, or that he was the oldest surviving veteran of World War 1. His extraordinary life spanned 3 centuries and saw 6 monarchs and 21 Prime Ministers come and go. He lived through some of the most important moments in our history and emerged from them all with good humour and tremendous spirit, both of which were clearly on display when I met Henry last month as he celebrated his 113th birthday.
This was certainly unlike any other birthday party I'd ever attended. Hosted by the Royal Navy, the festivities began with a helicopter fly-by and Henry's cake being delivered by speed boat down the River Thames. I have to say, I had been wondering how the Navy would handle the delicate issue of birthday candles, but they diplomatically decided to present a cake free of flames, which is probably just as well, as we found ourselves in quite a small crowded room, and none of the guests, even the young naval officers, looked ready to take on the herculean feat of blowing out 113 all in one go. The guest of honour, despite his obvious frailty, beamed with pleasure and thanked everyone for being there with him, declaring "wonderful, wonderful" on several occasions.
There was no doubt that Henry knew exactly where he was and why he was there and was obviously very moved to see so many members of his family, who had flown in from the USA to be with him. There were several moving moments that day. First, as Henry took a photo call for the media scrum who had turned up to see him reach this massive milestone - a small blond boy broke through the crowd, ran up to Henry and clutched his hand earnestly. This was one of Henry's great great grandchildren, upset that he had not been able to speak to his grandpa properly, thanks to all the photographers who had crowded round. Henry knew exactly who it was and stroked and comforted the little boy, and the media got their perfect picture. Later, I happened to be standing by Henry's wheel chair, when a very senior member of the RAF approached. He bent down, held Henry's hand and talked directly into Henry's ear, as Henry was extremely hard of hearing by this point. The RAF officer spoke to Henry about how much he meant to the RAF, how much it meant for them all to be here with him today and how proud they were of him.
Henry's war career began with the Royal Naval Air Force, which later became the RAF - so both the Royal Navy and the Royal Air Force claim him as their own. Since Henry turned 110, they have shared responsibility for his birthday celebrations. This year was the turn of the Royal Navy - next year would have been the turn of the RAF, but sadly it is not to be. St Dunstan's Residential Centre, Henry's home for the last few years,warned me that Henry's health had declined dramatically in the last few months. At last year's festivities he had cheerfully declared "see you next year!" This year, despite his obvious pleasure at all the fuss being made in his honour, he was less keen to make any promises about next year, and clearly felt the end was near.
I have met some amazing people in my time with the BBC, and visited some amazing places - but meeting Henry and being able to celebrate such a huge milestone with him, is definitely one of the highlights of my career. How many people today can say they've met someone who fought in the Great War, or been to a birthday party where the guest of honour might potentially have been asked to blow out 113 candles. Adam, my presenter, and I, did manage to grab a quiet moment with Henry and we asked him what he thought the secret to his long life was? He has in the past, somewhat tongue in cheek, put his longevity down to whisky and wild women. But today, he simply replied "be good - all you children out there, be good."