Editor's Note: This Christmas Radio 4 and Radio 4 Extra pay tribute to Eric Sykes, one of the great English comedians who died earlier this year. Here, Radio 4 Extra producer Mik Wilkojc talks about working with Eric Sykes and previews some of the coming programmes. PM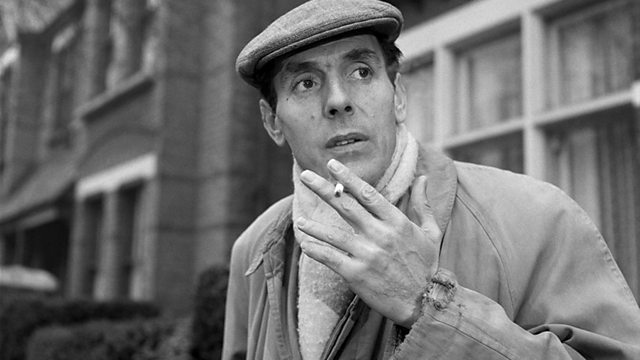 Eric Sykes: Sykes and a Window (16/12/1960) © BBC
I had the pleasure of working with Eric Sykes a couple of times in 2005. Firstly when he took a turn as The Comedy Controller and on a second recording session when he provided some short introductions to some episodes of The Goon Show  that he'd written.
On this second occasion, already in his eighties, he was having difficulty negotiating stairs at Broadcasting House and, although walking, when he reached the studio area he took the open wheelchair lift to travel just a short distance between mezzanine floors. During the stately, ten-second descent he held onto the rail like he was aboard a ship, looking out to sea. As the gate clanked open he said, "Like a millpond out there today."
And that short interlude sums up Eric Sykes for me: a man who existed as much in his own wonderful imagination as in the real world.
As we settled down to work, Eric's limited sight and hearing meant that writing a script for him was out of the question, so we sat and talked, individually, about the episodes in question.
Now, I'll confess that later when Eric had gone and I listened back to the tapes and heard the results, they seemed a little disjointed. However, when I listened again to Eric's recording with the Goons playing in the background, it suddenly, magically all became cohesive.
Eric's voice mingled with those of his long-departed mates as if they were clowning around in a studio, then and there. You can almost hear the exasperation in Eric's voice as if he's thinking, "Pack it in you lot! I've got a job to do."
Now, normally when you try to mix up bits of audio, it takes an age. But in the case of these little gems of intros, it took a matter of minutes - so in tune was the creativity, past and present.
I urge you to have a listen to The Sinking of Westminster Pier, The Last Tram (from Clapham) and Lurgi Strikes Britain - as part of our Cue! Eric Sykes celebration on Radio 4 Extra - and pay particular attention to Eric's little bits that precede them. They still make me smile.
4 Extra will also feature two Goon Shows this Christmas: Eric's seasonal panto-like Ye Bandit of Sherwood Forest and the very last episode he wrote for them, The Tales of Montmartre. The build-up to the parting of their ways can be heard over on Radio 4 in 'The Radio Years'.
Stars like Michael Bentine and Dick Emery might want to lay claim to being 'the fourth Goon' but Eric's soundless contribution puts him way up there for that title.
Eddie Izzard will be on hand all Christmas Day on Radio 4 Extra for the Cue! Eric Sykes celebration of the late comedian's work and appearances on radio. It starts with The Tales of Montmartre and then features the unearthed treasure It's A Fair Cop as well as With Great Pleasure,  Desert Island Discs  and an In Touch Special where Peter White spoke to Eric about coping with disability.
In addition, you can hear – for the first time since 1960 – a work by one of Eric's very favourite writers, N.F. Simpson. The wonderfully surreal A Resounding Tinkle  stars Eric's close friend, Deryck Guyler.