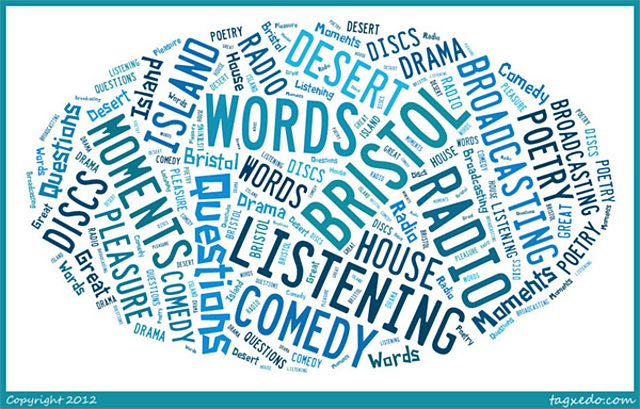 The Radio 4 More Than Words Listening Festival takes place in Bristol on March 16th, 17th and 18th this year. It's a celebration of sound, storytelling and the art of listening but also a celebration of a unique and enduring partnership with the city.
In 1934 the Lord Mayor of Bristol, one Herbert John Maggs, cut the ribbon to open four radio studios at 23 Whiteladies Road. Each was specifically designed for a different purpose - orchestral, dramatic, sound effects and "talking".
Initially "the West" was partnered with Wales but, after campaigning by local councils and MPs, the West of England Home Service was finally granted autonomy in 1937. BBC Bristol flourished but really came into its own during the war years.
The BBC's purpose - as laid out by Lord Reith - was to educate, inform and entertain and, during the war years, radio was a lifeline for the nation. In keeping with his Reithian values it was felt that boosting moral in wartime and keeping the population up to date with news at home and abroad was critical.
As the war escalated Broadcasting House in London became a frequent target for German bombers and the BBC decided to move its major departments out of London. Consequently children's programmes, the religious department, the variety unit as well as the BBC Symphony Orchestra were packed off to Bristol - 700 people in total.
Two extra studios were added to the Whiteladies Road HQ and several other locations in the city were made available to the BBC for recording plays, concerts, talks, quizzes and comedy shows.
With the fall of France in June 1940 Bristol came within the bombing range of the Luftwaffe and so, with the backing of the city council, the BBC headed underground into the Clifton Rocks Railway Tunnel where a transmitter, studio and control room were all concealed. Therefore, when the capital was under attack, London was able to quickly switch transmission to Bristol - sometimes in the middle of a news bulletin.
The point of all of this is to highlight Bristol's special role in the earliest history of the BBC and also to demonstrate the special relationship the Corporation has had and continues to have with the city.
In October 2009 the current Director General Mark Thompson signed a Memorandum of Understanding with Bristol creating the Corporation's first ever and only BBC-city partnership. The aim? To formally gather together Bristol's creative industries, community organisations and academic institutions to show that, by working together more closely, sharing expertise, resources and ambitions, there could be cultural and economic benefits for the people of Bristol, the city and the South West. In other words, after a rather long courtship, the BBC and Bristol tied the knot. So how is the marriage bearing up? Well, I think.
In terms of skills training, developing talent, sharing resources and expertise a lot has happened on the ground in Bristol over the last two and a half years. New job opportunities have been created and new alliances have been forged.
Culturally, out of that partnership, has come More Than Words - a weekend festival of listening with BBC Radio 4 at its heart. Radio 4 has been a presence in Bristol since 1967 when it replaced the Home Service. The current Controller of Radio 4, Gwynneth Williams, has put a focus on "the art of listening" for those of us who make programmes for the station and it's a perfect theme for More Than Words.
More Than Words will showcase and celebrate the best of Radio 4 in front of live audiences. We're keen to invite anyone who is curious about ideas and sound to join in and discover Radio 4 for themselves. More Than Words is also about bringing listening to life in Bristol not only through the rich Radio 4 output but through the fantastic partnership events sitting alongside the broadcast elements of the festival. Finding people to take part has been easy. It has worked because we already know each other; already know how to collaborate sharing our skills and talents to create something fresh for Bristol and the wider Radio 4 audience.
On the broadcast side we can promise a special 70th anniversary edition of Desert Island Discs recorded in front of an audience with castaway Jamie Cullum; Pink Mist - a contemporary reworking of Homer's Odyssey from the award winning poet Owen Sheers which takes us from Afghanistan to Bristol through the experiences of real life ex-service personnel living in the city; Anarchic theatre company Peepolykus offer a new comic adaptation of Sherlock Holmes and The Hound of the Baskervilles complete with special sound effects.
Poet and broadcaster Michael Rosen will be exploring the words and sounds that make children laugh in a special edition of Radio 4's Word of Mouth programme recorded with schoolchildren at the Bristol Central Library while writer Lynne Truss invites you to the beach in Tidal Talks as residents of a rockpool reveal the truth about life between the tides with Alison Steadman, Geoffrey Palmer and Tony Robinson.
Cerys Matthews will be centre stage for a special edition of With Great Pleasure and, as if that weren't enough, Great Lives, Loose Ends, Broadcasting House, The Wondermentalist Cabaret, Any Questions and Poetry Please are some of the other riches on offer.
Many of Radio 4's key presenters will be there including Kirsty Young, Jonathan Dimbleby, Clive Anderson, Arthur Smith, Harriett Gilbert, Paddy O'Connell, Fi Glover, Matthew Parris and Roger McGough.
On the ground in Bristol we will be running special More Than Words masterclasses and workshops on everything from poetry, pervasive media, digital and multiplatform storytelling, writing, comedy and active listening. Sound Adventurers from the city will be sharing their work and wisdom including internationally renowned artist Luke Jerram the creator of The Sky Orchestra , The Aeolus and who famously has installed 500 pianos across the globe from New York to Sydney bearing the simple instruction "Play Me I'm Yours".
Expect the unusual and surprising from a host of storytellers, poets, musicians, sound artists, performers and inventors as well as new work from some of the brightest young talents in the city and beyond all working in an extraordinary way with sound and pictures.
In a way, we are staying true to our roots and the purpose of the four studios originally built in Whiteladies Road in Bristol 1934. At Radio 4's More Than Words festival we will offer the orchestral, the dramatic, sounds effects and "talking" but with a 21st century twist.
Radio 4's More Than Words Listening Festival takes place in Bristol between Friday March 16th and Sunday March 18th. Even if you can't get there in person please do check us out online, on social media and by listening to our programmes on Radio 4. More details to follow.
Clare McGinn is Editor of Audio & Music Production at BBC Bristol