Persecutors and martyrs - the In Our Time newsletter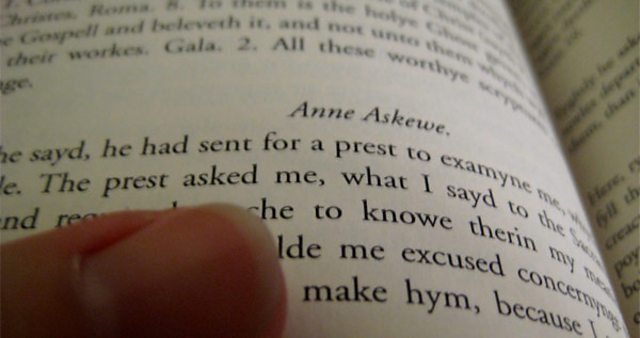 http://www.bbc.co.uk/programmes/b00vy2dd
Editor's note: another edition of Melvyn Bragg's In Our Time newsletter, a communication written weekly, right after the live Thursday morning transmission. Details of how to get the newsletter delivered to your inbox are at the bottom - SB
I don't know what the ethics are about saying "it's great" about a programme in which you've taken part. But I thought that the three contributors this morning had got over not only an immense amount of information about Foxe's Book of Martyrs, which for two centuries at least was one of the dominating books in our culture, second only to the King James Bible, but they had achieved a level of transferring the passion felt in the 16th century to a rather cold London studio in 2010. The Tudors must have bewildered their congregations with regard to religion.
To be uprooted, re-rooted, tossed aside, reclaimed, burnt, tortured, dismissed, told to read different texts, their saints destroyed, their saints propped up again, walls whitewashed, walls painted again ... I thought that came over. We didn't quite emphasise what a very good man Foxe himself was. He seems not to have sought any financial advantage from his book or any preferment in his career.
Afterwards Elizabeth Evenden told us that she had written biographies of the 2,238 people who had participated in the Marian martyrdoms. These included not only those who were burnt, but also their persecutors, their defences, their witnesses, their judges... it had taken her six years and she had spent most of that time in Lambeth Palace, because it was the only place where she could get the full, necessary editions of the Book of Martyrs side by side. Considering that one of them was over 2,000 pages long and the others not so far behind, it makes you realise that a scholar's work has an aspect of labouring to it.
She is bringing out a book in January on the making of Foxe's Book of Martyrs. While we're talking about books (there's a blanket ban on talking about contributors' own books in the programme) it would be only fair to mention Diarmaid MacCulloch's wonderful A History of Christianity: The First Three Thousand Years, which has been invaluable to me as I've been putting together my own book over the last year or two.
Justin Champion is working on Hobbes and has discovered that Hobbes, towards the end of his life, wrote ten essays on natural philosophy which have not been recognised or worked on before. This is like a gold prospector finding the great seam. Hobbes is still underrated. What he wrote predated a lot of what Spinoza wrote (Spinoza seems to have recognised this). He fell out with the Royal Society. He tended to fall out with a lot of people. He was a notoriously mean man and only had one overcoat all his life until the last two years when he bought a new one. He must have felt that he'd made a bad purchase with only two years' wear out of it. He died aged 90. He used to sing loudly in his bed before he went to sleep because he'd been told that that would protract his life.
I'm afraid I have sadly to bring to an end any more comments on the puppy in the office. Poland Street is now beset by puppyrazzi who are very dogged in the attentions they are paying to this beautiful little dog. I refuse to reveal his name because his privacy must be respected. He has the most wonderful long ears and is black and white and I may return to him in a year's time.
Only the unicorn has aroused a similar sort of interest. The puppy and the unicorn proved to be too toxic a mix for some of our readers. So I'm dropping the puppy and leaving the unicorn to be undiscovered in Mallorca.
Melvyn Bragg is presenter of In Our Time