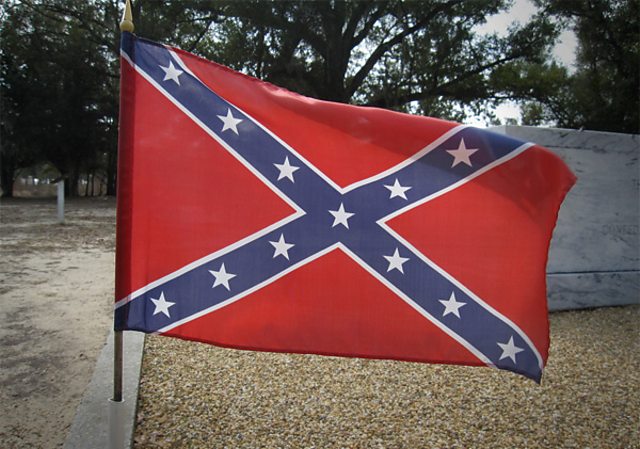 Confederate Flag in Biloxi: Pic by akasped
The preamble
Here are some of the many amazing radio podcasts available from the BBC. I've picked out a selection for your weekend's pleasure.
You can listen online or download to keep, or put onto your phone or MP3 player. This being the Radio 4 blog I'd also like to direct you to the Radio 4 podcast page.
Some podcasts are available for only seven days (eg Comedy of the Week; Friday Night Comedy) but others do have a huge archive you can download at any time (eg Desert Island Discs; In Our Time). If you haven't used podcasts from the BBC before there's some podcast help here.
This week's podcast selection
1. Friday Night Comedy: The Now Show
Steve Punt and Hugh Dennis are joined by Jon Holmes, Jan Ravens, Andrew Maxwell and Mitch Benn to scour this week's news for comedy.
Download here: http://www.bbc.co.uk/podcasts/series/fricomedy
2. Play of the Week: The Man in Black - Containment
By David Lemon. Mark Gatiss is The Man in Black in an unsettling play set in a storage facility. A lost soul clutches at hope when it's offered but there's a sinister price attached. With Clare Corbett as Helen.
Download here: http://www.bbc.co.uk/podcasts/series/ptw
3. Documentary of the Week: Blood Stained Banner
The Confederate Flag was first flown in November 1861. 150 years on Gary Younge explores what attitudes to the flag say about American identity today.
Download here: http://www.bbc.co.uk/podcasts/series/r4choice
4. Comedy of the Week: Dilemma,episode 3 (until Sunday)
Sue Perkins puts four guests through the moral and ethical wringer in this show show in which there are no "right" answers - but there are some deeply damning ones. This edition features comedians Shappi Khorsandi and Simon Munnery, broadcaster Fi Glover, and journalist Hugo Rifkind.
Download here: http://www.bbc.co.uk/podcasts/series/comedy
5. The Film Programme: Martin Scorsese on Hugo and the future of cinema
Martin Scorsese talks to Francine Stock about cinema's future, his passion for its history and the way he's used 3D to conjure them both to life in his new film, Hugo.
Download here: http://www.bbc.co.uk/podcasts/series/film
Paul Murphy is the editor of the Radio 4 blog