More on the new R4 web site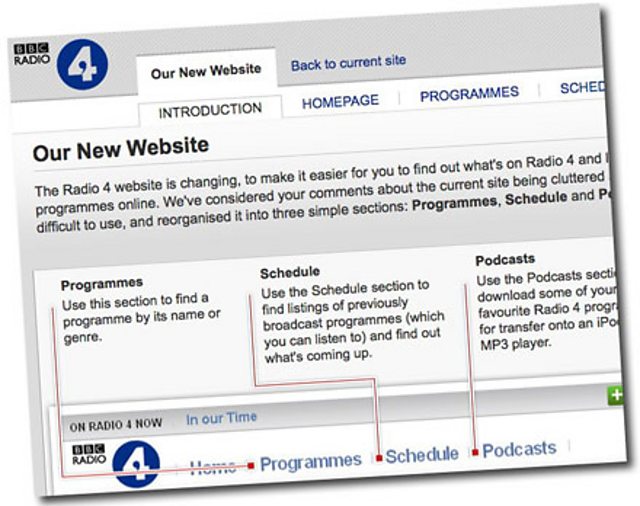 We're now ready to reveal the new Radio 4 website design. These annotated screenshots take you through some example pages from the new site with an explanation of their main features. Let me give you some background to this work which is one of the most complex redesigns in the BBC portfolio.
The design takes the colours and shapes of Radio 4's brand toolkit as its starting point. Our team worked with this toolkit to create a design that adds depth and impact to our programme pages, without distracting from the content - white background space and a subtle emphasis of the information hierarchy help to present the programme information clearly. Agreeing a design route is usually the point at which all stakeholders want to have their say and this project followed that honourable tradition.
It was all the more interesting because this is the first time that the full Radio 4 brand toolkit has been incorporated within the main website design which was a big challenge. It is thanks to the flair and professionalism of our User Experience & Design team, working with our supportive colleagues in Marketing, that this result was achieved. You'll notice when we relaunch that different colours are emphasised within certain genres - red is picked out on our news programme pages, yellow for comedy, green for drama and readings.
Some of you will be familiar with the BBC's programmes website (bbc.co.uk/programmes). At relaunch, we're adopting these programme pages with some significant changes to template layout, design and some new features (as described on our sample pages). Not only will these pages provide a more consistent user-experience across Radio 4, they will in time enable us to create useful links between related content right across the BBC. (And there are other features and services that we'll be able to add in the months to come.) As we head towards launch, we're negotiating the challenge of making the specific demands of Radio 4 programmes work with this pan-BBC system - this is going well, on the whole, and we'll be grateful for your feedback to help us to fine-tune this at launch.
I'd also like to highlight the introduction of 'tagged' episodes, which will create a new way of navigating to programmes - by subject. At launch, you'll find 'tags' (keywords) on programme pages and a selection of topical tags on our homepage. Clicking on a tag will take you to a page which brings together all recent Radio 4 programmes related to that keyword (eg all programmes about Barack Obama or Climate Change or Asthma).

As we build up an archive of tagged programmes, our rich audio resource will become more accessible. In the audience research we undertook at the start of this project, lighter Radio 4 listeners in particular said that enabling them to "browse by subject" would be the most useful service we could provide to help them to find and enjoy more Radio 4 programmes. I'm eager for us to build towards this service from launch.
We're still just about on course to launch at the end of this month, barring any unforeseen problems, but have a lot of code-tweaking and editorial checking to undertake during the next week or so. I'll let you know when we're ready to make the switch. In the meantime, I'll look forward to reading your reactions to the screenshots.
This is Leigh's second post on the redesign. The first is here.
Follow Radio4blog on Twitter for Radio 4 news, site updates and interesting retweets.