Editor's note: Alice Feinstein, Editor of Radio 4's Woman's Hour, discusses the three guest presenters on Woman's Hour over August 2013. Woman's Hour is available to listen to online or to download and keep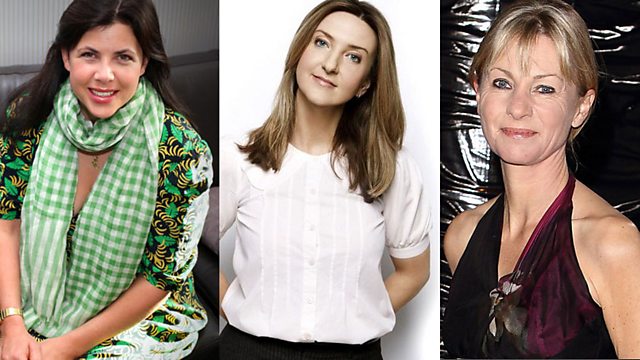 Woman's Hour - Guest Presenters in August
Mondays will sound a bit different on Woman's Hour this August. Beginning on 5th August, we'll have three guest presenters – Victoria Derbyshire, Kirstie Allsopp and Kate Mosse – keeping Jane's seat warm while she is occupied with Radio 4's new Summer Nights series. Jane will return to her Monday duties at the end of the month for a special bank holiday collaboration with our colleagues on 5live's Men's Hour, before normal service resumes in September.
 
Our guest presenters will each address an issue they feel passionately about. Victoria Derbyshire will investigate the most challenging of topics as she finds out how it feels for a mother to discover that her partner is a paedophile and has abused her child. She will speak to women who have lived through such a harrowing experience, asking how they coped with the trauma of the disclosure and the lasting impact on their lives.
 
Kirstie Allsopp will embark on a personal journey to investigate how women are prepared for childbirth. She will look at the role of antenatal courses, the NCT, midwives and doctors, and will talk to mothers and experts from across the spectrum of opinion about idealism, interference and safety. How many women get the birth they want and how are their expectations managed?
 
On 19th August, Kate Mosse – founder of the Orange Prize for Fiction – will take a look at the publishing industry today. One of the guests she will be talking to is Ursula Mackenzie, chief executive of Little Brown Book Group and one of the Woman's Hour Power Listers. Together they will discuss reviewing, book prizes and how to get published in this digital age, as well as offering suggestions for the best summer reading.
 
At the end of the month, Jane will return for a special bank holiday edition of Woman's Hour in which she will team up with Tim Samuels from 5live's Men's Hour to explore the experience and politics of online dating, and its impact on our lives and love. The programme will be broadcast on both networks at the same time. It's a second date for Woman's Hour and Men's Hour, as we got together last year to discuss the secrets that people keep from their partners, friends and colleagues. Make sure to listen in to the on-air chemistry to get a male and a female perspective on the minefield that is dating in the modern world.
 
I hope you enjoy the special programmes we have lined up for you in August.
The BBC is not responsible for the content of external websites