Pinocchio in Surround Sound
Editor's note: Pinocchio was broadcast as Radio 4's Saturday Drama on Saturday 15 December. The programme is available on iPlayer Radio and is also being offered for download in a surround sound format. Here, Simon Tuff, Principal Technologist for BBC Audio and Music Technology Team explains the different file formats available. PM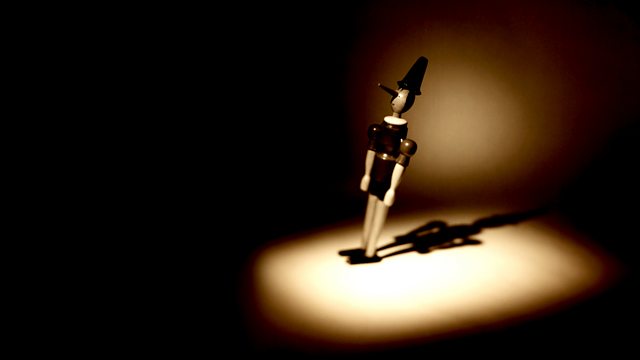 Audio innovation is a passion for BBC Research and Development and on occasion programmes are offered to listeners in new formats in order for us to gauge interest and accessibility to these new formats. This month we are offering the latest Radio 4 Saturday Drama, Pinocchio in two download formats.
Remember you can listen to Pinocchio in the regular way via iPlayer Radio - but read on if you are interested in this Surround Sound experiment.
This latest dramatisation of Pinocchio was produced by the BBC Salford team in conjunction with BBC Research and Development, using the latest form of audio production technique based on "audio objects". Tony Churnside explains how this is done on the Research and Development blog. To demonstrate how well this production technique works we have created 2 different (5.1) surround sound versions and made them available here.
The first version is in Dolby Digital or Dolby AC3 as it's often called. It's the same format that is used for DVDs and the HDTV sound on FreeSat and BSkyB. The idea with this version is to burn a copy to a DVD (with a suitable authoring tool) and then play it on your home cinema system. You can find out more about Dolby digital from their website. This version will also play in the vlc media player on a Mac or PC. You can get information about vlc here.
The second version uses a format called MPEG Surround and requires a suitable media player such Winamp. The latest freeware version (V 5.63) of Winamp should work on Windows 7 PC with a 5.1 sound card.
To configure Winamp, select the surround sound settings (System Settings -> Sound -> Device Settings -> 5.1 Speaker Setting), load the .mp4 sound file and if you have 6 correctly located speakers you should get surround sound.
If not then this file is cleverly constructed so that a standard AAC compatible media player will play the drama in stereo.
Although we tried these files with the vlc & Winamp players other suitable players may well be available so if you find something else that works well please let us know by posting a comment below.
We hope you enjoy Pinocchio in surround sound, as we think it really enhances the experience, but please remember that this is still experimental and thus may not work perfectly, however we are keen to know what you think so please let us know how you got on and what you made of our surround sound drama by posting your thoughts on the Radio 4 blog below.
If you want to download the standard MP3 of Pinocchio then it will be available from the Drama of the Week download page from 21 December 2012 for 7 days.