In Our Time newsletter: Robinson Crusoe
Editor's note: In yesterday's programme Melvyn Bragg and his guests discussed Robinson Crusoe. As always the programme is available to listen to online or to download and keep - PM.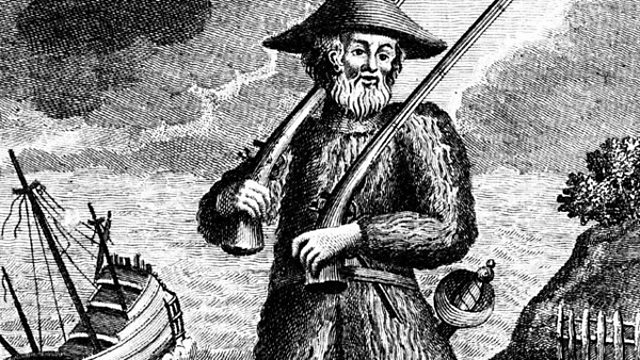 Hello
I'm sitting in my house at dawn on December 21st, the day before the last live programme of In Our Time which we'll follow with a recorded programme to go out at the end of December, so that we can all ease off for a few days' holiday over Christmas and the New Year.
I've looked out on Hampstead Heath, at the dawn. You remember at school when you read about "rosy-fingered dawn" - well, the rosy fingers are at work just over the East End of London this morning. There's, as Wordsworth said, a tranquillity over the city at a time like this, which is as profound as anything you experience in the country.
In fact, one of the things that's changed in my life over the last few years is the discovery that city walking, i.e. London walking, mainly, can be as intriguing and satisfying as walking in Cumbria. Well, not quite, come to think of it. I'm off up there for a holiday and I know that when I get on the fells there will be nothing like it. Nevertheless, it's not a bad runner-up, this city walking. The life of the flaneur.
I'm writing this today because logistically it is impossible for Ingrid and myself to get our act together tomorrow, to get out two newsletters to get to you.
Robinson Crusoe tomorrow. Curious to read it again. How long it takes before Friday appears! How much intense observation and knowledge there is about the art of survival. It could be a Super Scout survival book.
I wonder if Baden-Powell ever read it?
It's far better than Scouting for Boys (not, frankly, that I remember very much about Scouting for Boys sixty years on). Where did Defoe get all that information from? He was a most extraordinary man, publishing his first novel at the age of fifty-nine. It's so full of possible interpretations. Rather like the lady who saw Hamlet and said it was full of quotations. There's the master/slave aspect, there's the cannibalism, there's the conversion to Christianity, there are the adventures and the idea of adventure, there's the notion of the entrepreneur... No wonder it has gone on parallel lines as a discussion document about the history of this country over the last three hundred years, and as a popular favourite into children's books and even unto pantomime.
And then the recorded programme is on macromolecules. I'm very, very pleased that it is recorded! Chemistry was always a bit of a mystery. But I'll be surrounded, as usual, by three experts who will be (touch wood) generous and keen to impart their knowledge to you.
The following week there'll be a programme every morning, Monday to Friday, from about nine o'clock, on 'The Written World'. This is what I've been making with the producer Tom Morris over the last few months.
It is the most extraordinary story. We start at five and a half thousand years ago with cuneiform clay tablets and bring it up to a mention of Kindle. One of the most extraordinary things about it is that every significant artefact on that long journey from the beginning of writing to the present day can be found in this country, in the quite astounding collections at the British Museum, the British Library, at Cambridge, in the Durham Cathedral Library and in private collections.
So that's us. I hope you're all well. Thanks very much for your support this year and I hope that we will meet again in 2012.
Best wishes
Melvyn Bragg