Feedback: Behind the scenes at the BBC Proms with Director Roger Wright
Editor's note: Roger Bolton writes about his experience interviewing Roger Wright, the man who plans every one of the 75 BBC Proms. Armed with listeners' questions for the Proms Director, they met outside the Royal Albert Hall, beside the hum of the BBC Radio 3 broadcast trucks.
Feedback is available to listen to online or to download and keep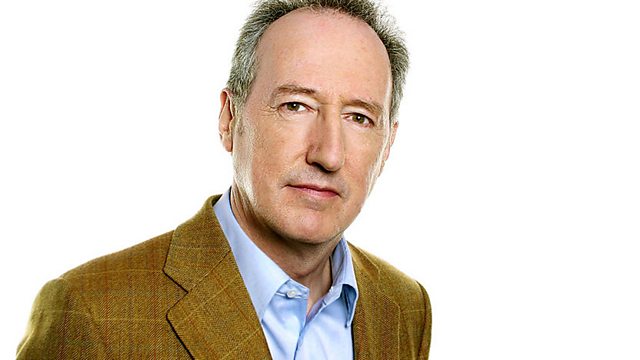 Roger Bolton - presenter of Feedback
If Roger Wright, the Director of the BBC Proms, read the Times review this week he must be a happy man. "This Ring was the Proms finest hour" it said. "Other countries have fine music festivals, but nothing like that".
However, Mr Wright says he never reads reviews, though he attends every one of the 75 Proms spread over 2 months and is back in early next morning to watch rehearsals and talk to promenaders.
Mind you, even Mr Wright may sometimes get it wrong. Some Feedback listeners who are fans of Verdi point out that it is the bicentenary of his birth as well, and that whereas there are 10 Proms featuring Wagner, their hero's work is featured in only four.
I put their concerns, and other listeners' questions, to Roger Wright when I met him at the Royal Albert Hall on Wednesday. He was slightly delayed talking to the orchestra, so I wandered around the outside corridors looking at photographs of past performances, orchestras and conductors.
A  photo of 'Flash Harry', aka Sir Malcolm Sargent, was there of course.
I remember watching his last appearance at the Proms, on the last night of the 1967 season. He was not conducting but came to say farewell to his audience. I did not know that he was dying of cancer, had been dosed with pain killers, and even so had only just made the journey across from his flat next door.
He looked, as always, immaculate and full of fun.
He died two weeks later.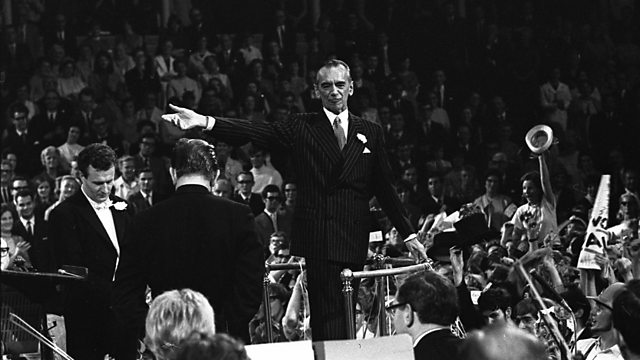 Sir Malcolm Sargent at the BBC Proms in 1967
As I wandered around I also thought of the time when the Controller of Radio 3 did not double up as Director of the Proms.  When the two men (and they were always men) were friends, it seemed to work reasonably well, but if they did not get on then there could be open warfare with the BBC music department split down the middle.
This year there are 75 proms spread over 2 months at a cost of £9million pounds, just over half of which comes out of the licence fee.
I was armed for the interview with lots of listeners' questions for Roger Wright. But I also wanted to find out how he knows when a young performer is ready for the Royal Albert Hall, and how far ahead he plans the programmes.
When the Director bounced into the green room, which he must have left only a few hours before, he did not seem to be under any particular strain, indeed he seemed to be having the time of his life.
Here is our feature with him:
Roger Bolton interviews Roger Wright, Director of the BBC Proms
I hope the interview is not too soft for listeners' tastes but I have to say I am a bit in awe of the Proms. I cannot think of anything else which so exemplifies public service broadcasting at its best. If I were BBC Director General I would order every one of my senior executives to go, look, learn and listen, and then go home - by public transport.
Roger Bolton
The BBC is not responsible for content from external websites