Editors note. In Thursday's programme Melvyn Bragg and guests discussed Pocahontas. As always the programme is available to listen to online or download to keep.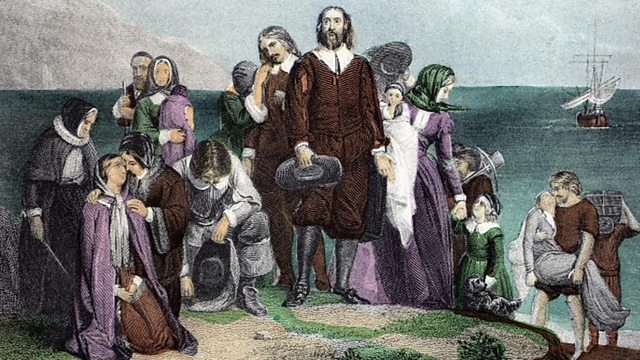 Hello
So Disney, it seems, didn't get Pocahontas quite right.  They pursued the line that she had had an affair with John Smith.  When they were aware of each other, she was about ten and he was about thirty, and there's no evidence for this whatsoever, but she was already becoming a myth.  What a short life and what an immense one.  Jacqueline Fear-Segal recalled (after the programme) a delegation which came to Gravesend recently.  A delegation, that is, of American Indians who were part of the Algonquin-speaking grouping when the English arrived.  They came to get recognition because none of these Virginia tribes have recognition; that is to say, they are not seen to be included in Bills for medical rights, educational rights or land rights.  Only two tribes have got anything approaching land rights.  They have federal but not national recognition.  On it goes.
When Pocahontas came (this is all post-programme chat) to London, John Chamberlain saw her at the great masque of Ben Jonson's, which was attended by James I and his wife, and said that she was "no fair lady … but tricked up to be somebody".  Emeritus Professor Susan Castillo's comment on that was "supercilious git" (I have her permission to say this).  When she came to London she was first of all put up in a tavern called La Belle Sauvage.  Typical English bureaucratic tact, of course.  Soon she moved to Syon Park, a home of the Duke of Northumberland.
The Native Indian thing persists quite strongly.  Susan's grandmother, who into her late eighties had straight, thick, black hair, was believed to have a Choctaw element in her genetic makeup.  But it was never talked about.
Curiously, and without Tom Morris and myself giving it any calculation whatsoever, this week's programme linked up with last week's on The Tempest.  Rolfe was in the ship, The Sea Venture, which was wrecked and landed its people on the Bermudas and this was one of the starting points for Shakespeare's play.  Other notions about English settlers landing on foreign islands swirled in from this Virginia experience, which was the first time that the English bit into the North American continent.
Over 100,000 people claim descent from Pocahontas through the child she had with Rolfe.  One of these is Nancy Reagan.  In Rolfe's village in England, in Heacham, there is a village sign depicting Pocahontas.  As there is a statue of her in St George's Church in Gravesend.  It's difficult to imagine what an amazing coup it must have seemed.  This young princess, as the English thought she was (hence the invitation to be in the presence of James I and his wife, etc), accounted by others than the supercilious John Chamberlain to be beautiful and certainly strange, was the first recorded Native Indian to turn to Christianity, and one of only three people who went into an interracial marriage in Virginia in the whole of the seventeenth century.  In Latin America there were many, many more interracial marriages, but the English held off.
John Rolfe, who went back to America without his bride, was most likely killed in the 1622 uprising.  His son went on to produce what became the 100,000 descendants.
I was going to write about the cowboys and Indians on Saturday matinees in Wigton, but there's no more space.  You'll be relieved to hear that!
Best wishes
Melvyn Bragg
PS: By a deeply mysterious coincidence, yesterday we received our first review from a paper in Virginia!
Download this episode to keep from the In Our Time podcast page
Visit the In Our Time website
Follow Radio 4 on Twitter and Facebook
The BBC is not responsible for the content of external websites