Woody Allen on The Film Programme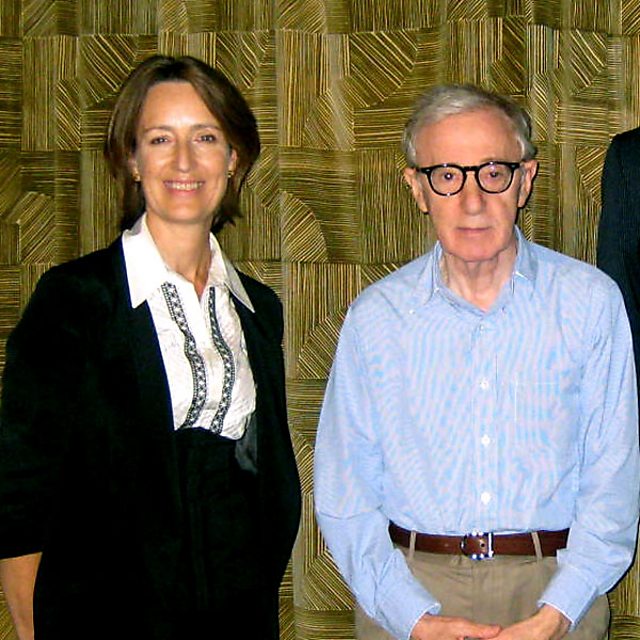 The Film Programme's Francine Stock with Woody Allen
A screen persona is not necessarily what you get in person. Jack Nicholson is not Crazy Jack if you meet him, more like analytical businessman Jack. Comedians are often shy and careful and Woody Allen, everyone he's worked with tells you, is not the querulous neurotic of Manhattan, say, or Bananas.
It is quite a moment, however, when you stand outside the impressive Park Avenue building that has been his production office for decades. A central casting doorman, courteous but watchful, ushers you in; word goes through to the inner sanctum and then you're off on the long walk down a vaulted marble corridor where the arches get smaller as you go along.
It's as if you're being prepared for the scale of the director.
The office itself is a symphony in comfortable 1970s browns and greens, remarkably low key given that Allen is still making on average a film a year. Producer Craig Smith and I are ushered past an editing suite into a screening room, with large metal canisters of films - titles from Allen's back catalogue and, like a manifesto, Fellini's 8 ½ - tucked into corners.
There are piles of the old records he uses as soundtrack, most recognisably in his trademark opening credits, white Windsor font letters on black. And sheet music for his regular Monday performances on clarinet with a New Orleans jazz band.
Then suddenly, Mr Allen has slipped into the room.
The glasses are big and black, if more elegant than Alvy's in Annie Hall. He is extremely polite and gentle in his manner. I worry that my handshake may have crushed his fingers. Later he mentions arthritis and I worry more. He does not fidget or sigh like a Woody Allen character. I remark on the onscreen resemblance in the latest film of Owen Wilson's character to that familiar Allen screen persona, right down to the lopsided walk, the sports jacket and the movement of the hands. Allen is reluctant to concede this.
A couple of days later, back in London, I meet Will Ferrell, who played the Woody Allen character, as it were, in the director's 2004 film Melinda and Melinda.
Did he find himself influenced by the man? It was irresistible, he suggested. Allen writes the words, he's there in front of you, guiding you - after a while, you find you've fallen into his speech patterns and before you know it, it's an impersonation. It's something you have to fight.
It's a powerful thing, that Woody Allen character. A whole generation of younger actors - from Seinfeld to Ben Stiller - incorporate references to it; it is deep in the culture of comedy acting.
Meanwhile, the man himself - already onto his next project - pulls on a little fishing hat and slides unnoticed out onto the street.
Francine Stock presents The Film Programme on BBC Radio 4