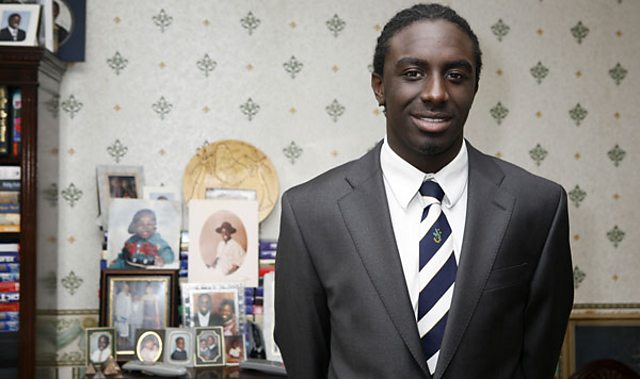 http://www.bbc.co.uk/programmes/b00mjr9v
One of my delights over the past few years has been following the so-called 'children of the Olympic bid'. If you've missed it let me fill you in.
These are the youngsters who back in 2005 played a key but little known role in snatching the games for London from under the Parisian nose. Aged between twelve and sixteen at the time, they were selected from east end schools to demonstrate the diversity that London would bring to the games.
Up on stage, as Sebastian Coe put the London case to the International Olympic Committee. Their contrast with 'the suits' that the other cities had on show might just have made all the difference.
I was in Singapore at the time, but I have to admit, it was my producer who cooked up the idea with our commissioning editor at Radio 4 that we should follow these youngsters all the way through to the games themselves and see how their lives were shaped by the event they'd done so much to bring about.
It's been a joy! The first in the current series went out last Monday. We've spent a good deal of this week editing and scripting the second programme.
The great thing about these youngsters is that they have been so welcoming, so frank, so un-phased by having microphones thrust in front of them. There's a presumption that teenagers between about thirteen and seventeen are loathe to utter more than a monosyllable, but nothing could have been further from the truth with this group.
They've welcomed me into their homes, let me watch at close quarters their disasters, sporting and otherwise, and then politely answered questions about them! Talked about their love lives, their beliefs, their ambitions, without a hint of defensiveness. None of this "lessons will have been learned from this". When things go well for them, they share their uninhibited delight; when they screw up, they tell you what went wrong! Anyone with a jaundiced view of today's younger generation should listen to them; they could learn a lot!
You and Yours has also thrown up two particular delights for me this week: first of all my guest on Monday was Margaret Mountford, the businesswoman who has become something of a heroine to viewers of the BBC's 'Apprentice' for her withering look when dismissing the antics of Lord Sugar's most excruciating job applicants.
The You and Yours team have had quite a lot of fun trying to explain to me what a 'withering' look is; one of the great advantages to having been blind from birth, is that withering looks can be safely ignored!
I think Margaret must have got most of her withering looks out of the way while she and the producer negotiated over what she would, and wouldn't answer questions on!
By the time she got to me, she was all smiles (one of the joys of being a presenter; we're a cosseted bunch). She was only too happy to talk about women in the city, the fact that a lot of people came on The Apprentice just to secure a career in television, and even what she thought of a man whose nose was ensured for five million pounds, because it was so good at grading cheese.
But an even higher point than that was my trip on one of the first Greyhound buses to make a scheduled journey in Britain, from Southampton to London.
The iconic American company (actually now British-owned) reckons it can make a go of it here, but we probably haven't helped! And it was all going so well: barrelling up the motorway, Managing Director giving me his pitch, American studies academic waxing lyrical about the music the Greyhound had inspired! In fact, my worry was that this could all turn into far too much of a puff for the company!
I needn't have worried: somewhere near Windlesham in Surrey, so far not a subject of popular song, a keening, whining sound impinged on my interviewing. It quickly became apparent that we were losing power: Soon, with a nifty bit of piloting, the driver slid us to a halt on the hard shoulder! We'd broken down! It's the moment a company dreads
I have to be fair; they took it on the chin, fronted up for the inevitable interview, and summoned taxis to take everyone on to their final destinations. In fact, judging by the response to our programme, its probably done them less harm than they think; but, given that one of their great selling-points was tickets for a pound, I did rather treasure the pay-off: the lady who phoned her son to tell him what had happened, only to receive back this text: "you get what you pay for, mother".