The appeal is well under way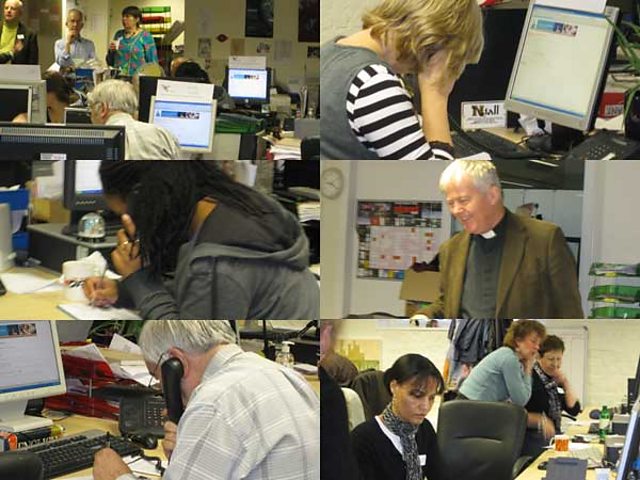 Sunday, December 6th: Appeal day. The taxi drops me at St Martin's before 0700. It's dark, it's raining, and I notice two men sheltering with their belongings as best they can on the steps of the church. Into the office to switch on computers and a last-minute test of the phones.
I like to describe myself as being a bit like Santa - he and I both spend most of the year planning for the big day. The Christmas Appeal isn't the only thing I do: most of the time, I run the Vicar's Relief Fund, spending half of the money from the Appeal. Every day, support workers up and down the country send me requests on behalf of their clients. It may be rent arrears, usually because of problems with benefits, that are putting them at risk of becoming homeless; or they may be homeless and have a chance of obtaining a tenancy, but need a deposit, or a bed or cooker to put in it and begin to set up a home. Each request is considered, but the money has to last until the end of the financial year, and if I want to be sure that we can continue to meet crisis needs until then, I have to sift through each request and identify which ones will get a grant and which ones won't. Even though we try to make the money go as far as possible, I still have to say "no" to many more requests than to the ones I can say "yes, we'll help". Making that decision is the hardest part of my job, because I know that there's a person or a family behind that piece of paper who needs help. But it's necessary to prioritise the requests; otherwise we would run out of money in six months and spend the rest of year saying "no" to every request, even those in the most desperate need. Finding the balance between helping and staying within budget is rather like driving down a steep mountain road, riding the brakes just enough to keep the car going but not too fast that tumble off a cliff. This is why we need the Christmas Appeal to be a success.
This year's money will run out at the end of March. Next year's money will come from this year's Christmas Appeal, so careful planning is needed to ensure as many people as possible know about it and know how to support us. And when they do decide to support us, we've got to be sure we have the ability to accept their donation however they want to give it to us. This year, I've had meetings with our partners at BBC, our phone suppliers and many others, working towards this day when volunteers would give up part of their Sunday to take calls. By this stage, I was fairly sure the technical bit that had been planned out over the past few months would work: now we just needed people to ring in.
By 0730, others start to arrive: the phone engineer (just in case it doesn't work), the Vicar with breakfast things, the volunteers. The volunteers are people from all walks of life: we have members of the St Martin's congregation, our business manager and her husband, bankers, lawyers, secretaries from the big companies in the area. There's something about the Christmas Appeal that draws these people together, something that links them - and the people around the country they will be speaking with - to what this church represents and the work that we do. Is it simply a desire to help? To right a wrong? Or a recognition that there but for the grace of God go any of us.
Gradually, the volunteers take their places and get ready. The Appeal is broadcast at 0755. As it draws to a close and Nick's recorded voice reads out the number, I look at my watch. 10 seconds go by. 20... no phones ringing. How can it not be working? After 30 long seconds, just as we're about to ring the number ourselves to test it, the phones ring. Volunteers swoop on the calls and begin collecting names, addresses and credit card details.
Donors responding to the Appeal give what they can. Sometimes it's a little bit of money, sometimes it's a lot. Often, older people will tell us: "This is my heating allowance. I don't need it, so you can have it". Or: "I'm sorry it can't be more". But every little bit helps, and the volunteers graciously accept each donation, regardless of size.
And gradually, these various amounts of money start adding up, and by the time the first shift finishes at 0930 the total is over £7000.
The second shift take over; we now have a full house. In the slot before "The Archers", "Received with Thanks" is broadcast and I can use the online monitoring system to see the waiting time creep up as the volume of calls increase. At times like this, callers include people for whom the glass is half-empty as well as those for whom it is half full: some are indignant that they've had to wait so long, while the fact they've had to wait so long makes others realise that we are busy and must be doing well.
We could, of course, install an automated system, or we could outsource the calls to a call centre. Instead, we prefer to stick to the personal touch and use these volunteers. We know from donor's comments that they prefer to speak to a real person; if they time it right, they'll even get to hear the bells of St Martin's in the background. We may not quite carry off the polished professionalism bigger charities are able to mount, of course, but in the end, we're just a little operation working out of a church office. I think a lot of donors expect us to be a bit scruffy round the edges, and appreciate us for being so.
After a while, the calls begin to subside. The phones - and the volunteers answering them - have come through their toughest test. By 1100, we've topped £20,000 (that's about 4 or 5 weeks worth of Vicar's Relief Fund grants), and I can start to feel a bit more relaxed.
The sun shines through the windows. Calls peak and trough throughout the day and into the evening. It gets dark. Weariness settles over me like an itchy blanket. Despite the long day, I'm amazed how quickly the time goes.
Shifts of volunteers come and go. Sometimes it's difficult to get someone out of the chair for the next volunteer to take over. There's something almost addictive about what they're doing, as if they can't get enough of the feeling that's passing through the phone line, or they are wrenching themselves away from an unfinished task. When they do go, they often act as if they are leaving a party, rather than having spent the previous two hours concentrating over names, addresses and lots of numbers. Their parting words are often: "See you next year!"
Finally, at 2200, calls are diverted to the BBC call centre. The last donations are processed and we look at the final results: in this one day, the Christmas Appeal has collected over £60,000 in phone donations. I know more than £30,000 has been donated through the website. Hopefully, this will be the tip of the iceberg: the BBC will continue to take calls until another group of volunteers come in Thursday afternoon when Radio 4 repeat the Appeal. Cheques have already started to arrive in the post. Calls and web donations will, with any luck, continue through the month and perhaps into January. In spite of the recession, I'm beginning to think this might be a good year.
I couldn't finish without expressing my thanks to everyone who helped make the day such a success: to my colleague, Rod, who cheerfully ran around gathering volunteers from the door, making coffee and doing all those little things to help the day go smoothly; to Bronwyn who, as usual, minded the shop during the afternoon so I could grab some lunch and start this blog; to all the enthusiastic volunteers; to the people who do the technical bits with phones and websites that I will never fully understand but am just grateful that they work; and to all those generous people who gave what they could to help us help others in need. Thank you.
Craig Norman is Vicar's Relief Fund Administrator at St Martin-in-the-Fields