Cocktails, nuts and anachronisms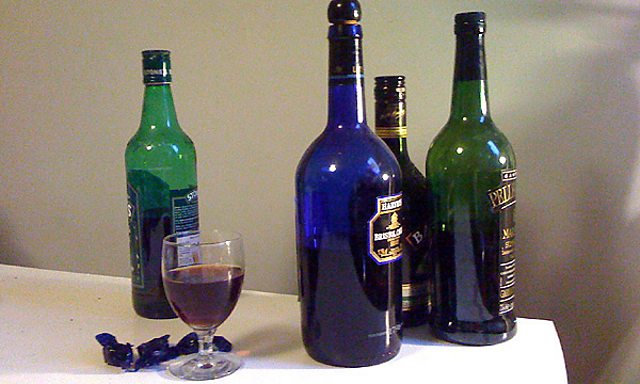 Editor's note: the final instalment of Ed Reardon's midwinter diary puts the final nail in the coffin of the season of goodwill - SB.
People sometimes say to me "What must it be like being you?" - most recently at my local greengrocer's, when I tried to take back and exchange a dozen or so almonds for some that might prove to be more crackable. In the past, when I had a family, a house and a garden, a regular mid-January ritual would see the paterfamilias taking the offending nuts out to the vice in the shed.
The successful results would be consumed with the drinks left over from Christmas, the remains of bottles of port, whisky, madeira etc adding up to a not unacceptable cocktail; good and warming too, given that by that time said paterfamilias found himself spending the night in the shed more often than not.
But now there's just me and my cat in Berkhamsted...and, in answer to the question, being Ed Reardon is not bad at all. At this time of year I take a few minutes to (as my late Mother termed it, generally after the school report arrived) 'have a meeting with myself'. This is not the same as making fatuous and frankly unenforceable New Year Resolutions about drinking and smoking less - life's too short. It's more a kind of stock-taking, though undertaken in my own time and not the infuriating sort carried out by a dozen or so spotty staff at the Co-Op, leaving one person on the till to deal with a queue of thirty, some of us with £1.50 dividend vouchers burning holes in our pockets.
So what do I see as I look in the shaving mirror, in the bit that's not obscured by Aubrey Beardsley nymphs round the edges, very popular in the 70s and salvaged from the shed mentioned earlier? Once again, I see a survivor.
True, the year just gone brought several professional setbacks on the authorship front - Armando Iannucci's Carpathian Walks disappointingly underperformed, the one which would have taken the book off the supermarket shelves clearly being a walk too far.
A similar fate befell Getting My Life Back - Tony Hayward's BP Story, though I understand several thousand unsold copies were shipped out to the Gulf of Mexico to help plug the leak and I'd already been paid my £1500 ghost-writing fee up front, so no real harm done.
But on the credit side I still have half a box of Quality Street left, my reward from BerKebabs in Station Road for being their second-best customer in 2010 (for those interested in statistics, Feedback's Roger Bolton waltzed off with the first-prize tin of Celebrations for the third year running, but after all it's the taking part that counts). For a half-box full person like myself that may be deemed a success, or 'a result' as the local vicar once described the Resurrection in his Easter newsletter.
Only this morning the postman added to my good fortune by leaving half a dozen intertwined red rubber bands on my doorstep, solving the immediate crisis with the toilet cistern. Moreover according to my agents' website it's only three weeks before they're open for business again, earlier possibly if the Snow Reports from Verbier are anything to go by.
Waiting on Ping's desk for her return will be a brand-new 90-minute TV script about the writing of The Canterbury Tales. The success of Downton Abbey and the BBC4 'biopics' has taught me that only a pedant worries about historical accuracy and anachronisms these days, so my dialogue is replete with 'Don't go there, Chaucer', 'That Wife of Bath is well past her sell-by date', 'The Miller's in a good place right now' and 'Patience is Griselda's default setting'. What's more it only took a day and a half to bash out.
And I could still be around to see it produced, as now I'm assured I may live to be 100 according to no less an authority than Dame Joan Bakewell (once dubbed the Thinking Man's crumpet, now - without wishing to be unkind - more of a Thinking Man's rusk). So contrary to expectations the future dawns bright and clear and long.
Although judging from the way the BBC has been playing fast and loose with much-loved characters in The Archers, the reality is that the 60th anniversary edition of Ed Reardon's Week might well find the decomposing body of its eponymous hero slumped inside the front door, with a suspiciously well-fed Elgar purring contentedly at the remains of my feet.
Oh, well.
Ed Reardon is an author, pipe smoker, consummate fare-dodger and master of the abusive e-mail