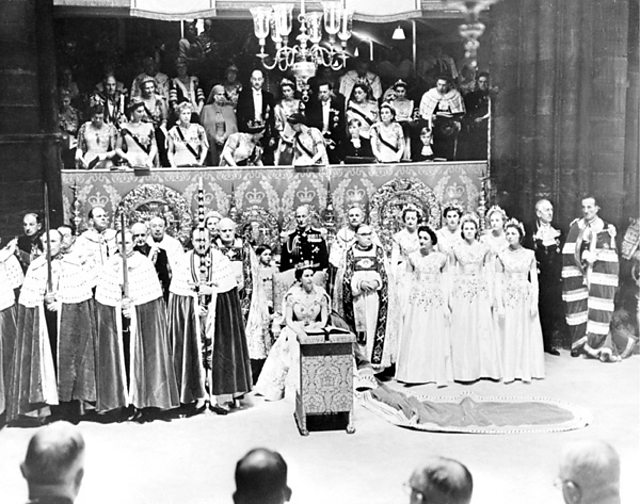 Queen Elizabeth II on her coronation day
How better to paint a portrait of our age than to find the people who have shaped its character?

When Radio 4 listeners get stuck into this, they are going to have a ball. So will I. I'm excited at the prospect of writing sixty profiles of the people who left the most indelible marks on our time; who, from 1952, have managed the changes that have made us who we are. The point is that we'll hope to produce a glittering galaxy of the very best, not just the most famous.

No doubt there will be a prime minister or two, an artist or an entertainer who's a household name, a sports star who's an idol - but our net is going to be cast much wider than that. If you want to offer a suggestion, think of this: do you know of someone who's embedded in the spirit of our age but isn't well-enough known? Think of the story of Tim Berners-Lee, the man who more-or-less invented the worldwide web who was unknown to so many people until many years after the internet had become our playground. Surely there are others who are in the same category, prophets with too little honour.

And what of the thinkers? Teachers who pioneered ways of dealing with ideas or language, who may not spring to mind as the most prominent figures of the last six decades but who've had a profound affect on how we live our lives; or architects who've shaped our cities; or campaigners who've managed to set the compass in a different direction.

The trick is going to be in the diversity. We're going to assemble a panel of distinguished men and women who'll help with the task, and try to manage the kaleidoscope that we hope will catch the movements in our lives in the course of these sixty years. We're not making judgements about who's top or bottom, or distinguishing between people who've been "good" or "bad" for politics, giving them some kind of star rating. Instead, we're hoping to create a picture, with light and shade, humour and maybe some high seriousness, that will seem like a mirror in which we can see ourselves.

It is a truism that every age is an age of change. But what I hope we can do in these portraits is to catch the speed and the quality of the revolutions we've all experienced - in our communities, in art and music, between the generations, in our view of the wider world. These are the things that matter, and it's right that with the happy excuse of a Diamond Jubilee we can try to trace some of the most important changes that have turned the post-war country that welcomed a new queen into a 21st state without an empire, in a globalized world, which seems in so many ways to be a different place.

I suspect that in doing so we'll be reminded that although so much is different, a great deal stays the same. Continuity is sometimes as remarkable as revolution, and I suspect that some of our New Elizabethans will be people who have understood some of the deepest currents that flow from our past, and learned how to ride them. Countries aren't invented overnight, and don't change in the blink of an eye. They evolve. Sometimes the process seems alarmingly fast, sometimes painfully slow, but the working out of that history will emerge from these portraits: we should be able to feel the texture of our times.

Mind you, this is going to cause a bit of an argument. I can hear the debates now about how a particular painter or musician made it on to the list while others were left off, not to mention the political disagreement about whose contributions have been the most significant. I have to say that I will relish that, although I must admit I'll be comforted by the fact that the list is not my responsibility. I'll have my views, and will make them known like anyone else. But I'll have a little deniability…

It will be useful, because I'm sure that this project is going to stir up a good debate. How do you compare a philosopher and a singer, a footballer and a prime minister? The answer is that it's worth trying to find the strongest threads in our recent history, the ones that hold it together, and that's what we're going to try to do.

For my part, the challenge of trying to catch the character and the essence of these 60 people is going to be a thrill. I was born just before the Queen's accession, so this history is mine too. The New Elizabethans have built the country that I live in, given it colour and life and, in part, made us all the people that we are.

They are worth celebrating.
Jim Naughtie presents Today