Protection - it's the name of the game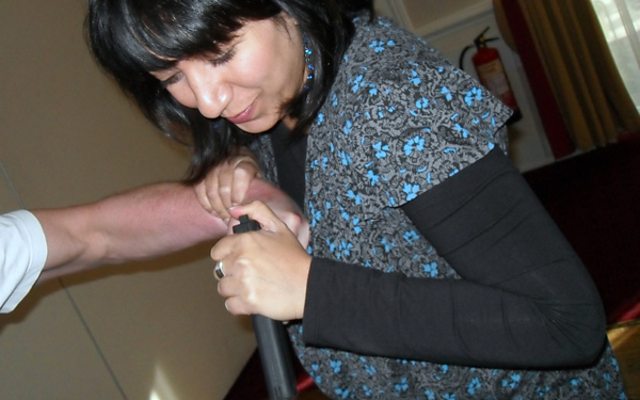 I'm standing in a large conference room - devoid of furniture, carpet pulled back - in an ordinary well-known branded hotel in Kent. The room reverberates with shouts and cries:
"Give me your money!"

I've got a gun and I'll use it if you don't give me your valuables! br> Get down! Get down! br>

Aaaaaarrrrggghhhhhhhhhh!
This last one is followed by a loud THUMP and a lot of laughter. In the room in front of me... and my microphone... are three trainee close-protection officers a.k.a bodyguards. Two are men whilst the third is a young woman. Along with them is the training officer, a deceptively young looking chap who is teaching the class how to disarm an assailant who has a gun, and a Task manager, an experienced bodyguard. Why the laughter? Because the young woman has not only disarmed her taller, more experienced male counterpart, but has taken control of the gun and thrown him to the ground... hard!
I'm here, in my role as co-producer and 'bloke who knows how to use the recording kit' with my colleague (presenter and co-producer) Yasmeen Khan, to meet and interview the staff and trainees at Task International's latest Close-Protection/Bodyguard Training course. We are making a half hour documentary for BBC Radio 4 titled "The Protection Game". We are on another of our 'quests' to discover the state of the nation of a unique and little-known British industry (previously we have studied the soap and suds of the launderette business, the glass ceiling of British Asian comedy, and kicked around the issues facing aspiring footballers from ethnic backgrounds). We want to learn what it means to be a bodyguard, what the job entails, what the real risks are and who chooses to do it. We've all seen 'The Bodyguard' film (me, I've seen it almost 500 times, as I worked at a cinema the Christmas it was released... oh how I shudder whenever I hear that song!), and TV shows regularly have security officers in them (from all the President's men & women in 'The West Wing', to the former-boxer who wrote the theme tune and sung the theme tune and became Arthur Daley's Minder) but these idealised characterisations can't be true, can they?
So here we are, in this innocuous conference room in Kent, watching three people learn how to deal with guns and knives. The trainer clearly has a lot of military training and experience, as does the senior Task manager who is standing in for one of the trainees who has had to pop off to the local A&E after landing a little too hard on his knee. Yasmeen is off in one corner getting background information from another Task member, and I am moving carefully around the room, microphone in hand, recording the trainer's wise words, and then the shouts and cries of the trainees as they practise, one against the other. I have to be fleet-of-foot as they lung and attack, parry and disarm from one side of the room to the other. They aren't holding back!
And then the trainer pops over:
Yasmeen, do you want to learn how to disarm someone with a gun?
I immediately jump in as Mr Producer and say, "Yes, she does!" to which I get a rather stern look from Yasmeen, but like the pro she is, she dives right in.
And so, radio magic time, I stand there recording as Yasmeen is taught the three steps to disarm a gunman. Within a few minutes of practice she is really getting the hang of it... although the laughter (from her and the trainer, not me!) does detract a little from the sense of potential danger! I get the impression that making this programme about the world of bodyguards and close-protection officers is going to be an unusual and unique experience for us both.
Neil Gardner is the owner/MD of Ladbroke Productions, makers of The Protection Game