Sing in the The People's Passion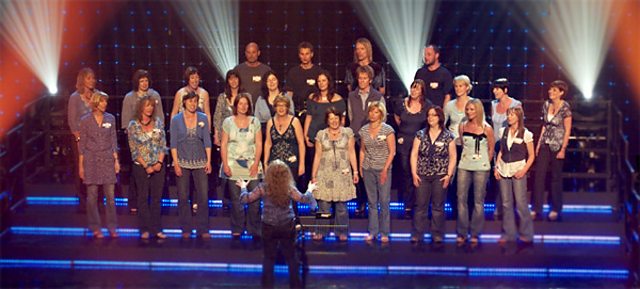 The Craigie Community Choir perform in 2008's Last Choir Standing
If you're in a choir why not learn and sing a brand new choral work available from BBC Radio 4 for Easter this year? It's all part of The People's Passion - a project that's been growing over the last few months and just keeps getting more exciting as more choirs sign up. It wasn't this big at the start...
Cathedrals, what they're for and what they mean to people in modern Britain has become a really hot discussion point since the St Paul's story broke, but we've been thinking about what's special about cathedrals for well over a year.
Working with BBC Drama, we started with an idea for five plays based around a fictional cathedral which could go out in Holy Week - one each day leading up to Good Friday. Then we added five features, in which we take a couple of people into one of Britain's real cathedrals to explore life in our great cathedrals now; looking at the music, people, belief and belonging, art and heritage.
One of the storylines in the plays is the rehearsal of the music for the Easter Sunday service and it was then that the idea was born for Radio 4 to commission a new choral work that would get the nation singing. All of a sudden we could see a fantastic opportunity to get as many choirs as possible around Britain singing the same piece of music for Easter 2012.
We brought together Manchester Carols composer Sasha Johnson Manning and the celebrated poet Michael Symmons Roberts and they've written a wonderful mass setting of Sanctus, Gloria, Agnus Dei and Anthem - all of which can now be downloaded as sheet music or recorded versions - including a simplified version for less experienced choirs or schools. There are also backing tracks in case you don't have your own pianist so it's all there to get you started!
BBC Local Radio will be helping us to spread the word and following choirs in their area, looking at their own local Cathedrals and linking to The People's Passion website. We're also using social media to link choirs to each other and log performances. Plus, programmes like Radio 4's Sunday, The Choir on Radio 3, and Good Morning Sunday with Aled Jones on Radio 2 will all be covering progress around the country.
We're aiming for as many performances as possible of our beautiful signature anthem, if not the whole setting. And we've got over 60 signed up on our choir-ometer already! Go on. Have a go. Singing makes you feel great and it's fun.
Go to our website and click on Contact Us to register so we know who you are and whereabouts your choir is in the country. And listen out for the broadcast premier from Manchester Cathedral on Radio 4's Sunday Worship on Easter Day at 8.10am.
Christine Morgan is Head of Radio, Religion and Ethics