Feedback: Is there now equality in radio?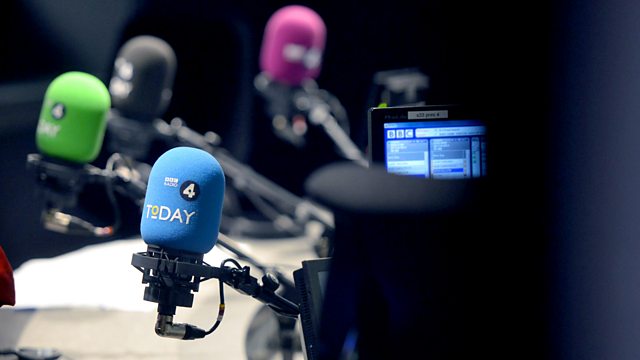 Microphones in the Today programme studio.
"Too often women on radio are parked right up sidekick alley, a stooge, an obliging giggler, someone to facilitate the Wildean wit of the Big Man at the controls".
Those are the words of Woman's Hour presenter Jane Garvey from a recent newspaper article. 
She has been presenting a series of programmes this week on women in broadcasting, beginning with those appointed by Lord Reith, surprisingly enlightened for his time.
Getting on Air: The Female Pioneers

So were her comments about giggling stooges aimed at BBC radio?

After all, on Radio 4 Ritula Shah has just been made main presenter of The World Tonight, the Today presenters now include Mishal Husain as well as Sarah Montague, and then there is Martha Kearney on the World at One.

And on Radio 5 Live, Victoria Derbyshire is nobody's stooge.

In our interview Jane acknowledges that her words would be more applicable to local radio, and in particular to the commercial sector.

At the BBC the Director General, Tony Hall, has set a target of 50% of BBC local radio morning shows being presented or co-presented by a woman by next year.

You can hear Jane's thoughts on these issues in the Feedback clip below.

On a personal level I was somewhat taken aback by a statement from a BBC producer, now an academic, in one of the later programmes. She said that while working at the BBC in the early 80s, aside from Esther Rantzen, she felt there were no inspiring women to look up to.

As I was her boss at the time, being Editor of BBC1's Nationwide programme, I thought this a strange thing to say.

After all, Sue Lawley was one of our main presenters, and she did interviews with all the top figures, including Mrs Thatcher.

Then there was Sue Cook, Pattie Coldwell and many others, all capable of holding their own with any man.

On the editorial side there was the redoubtable Barbara Maxwell, who ran Question Time and managed to keep Sir Robin Day in order, an astonishing feat.

Elsewhere Jane Drabble was beginning her ascent up the managerial ladder, which led to the job of deputy Managing Director of Television.

All these were exceptional broadcasters, who undoubtedly faced prejudice, but who triumphed over it.

As Jane's series reveals, there have always been exceptional women at the BBC.

When I first went to Lime Grove, then the centre of television current affairs, I was always being told about 'Grace'.

Her shadow was everywhere, and though she had left the building some years before, her 'boys' were still in charge or running the networks.

Grace Wyndham Goldie was, deservedly, a legend.

My first female boss was Margaret Douglas who by the 1970s was running all the corporation's coverage of the party political conferences and producing political documentaries on former prime ministers like Harold MacMillan. She later became the BBC's chief political adviser.

Margaret was kind and deceptively modest but she had the highest of standards and a will of steel.

There were plenty of women to look up to and I haven't mentioned Jenni Murray, who worked with me in Lime Grove, Sue MacGregor, or arguably the best interviewer of them all, Olivia O'Leary.

Now for the interview with someone else I admire and whose regular programme I try never to miss, even though it is not always good for the blood pressure: Jane Garvey.
Has radio's glass ceiling been shattered? Jane Garvey talks to Roger Bolton.