The Thinking Allowed Newsletter: Bring on the stripper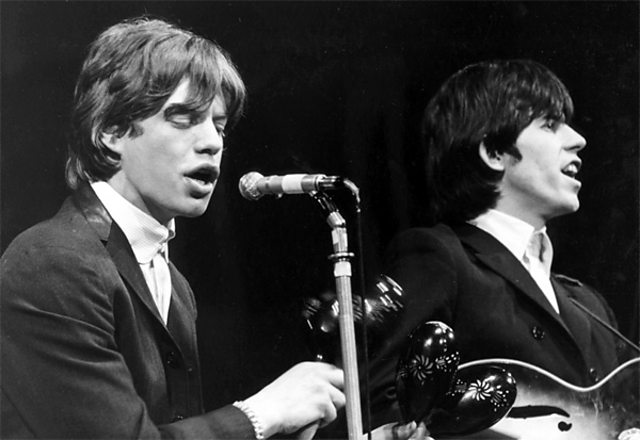 Mick Jagger and Keith Richards on "Top Beat", BBC2, 1964.
It must have been the spring term back in 1969 when Paul had his bright idea.
"You know what", he said, banging his pint down on the table in the Derwent College student bar. "We should devise a happening".
Even though my grasp of the language of the sixties cultural revolution was inadequate, it still struck me that there was something mildly illogical about planning an event which was supposed to be characterised by spontaneity. Surely "happenings" just happened?
Paul, who at the time was one of my brightest second year sociology students, knew better.
"You can't just wait for things to happen", he told me and the rest of the table. "You have to bring together some combustible ingredients and then throw in a match. It has to be planned."
Three weeks later I saw the first results of that planning - a large poster advertising a Night of Deviance which would be held in a local theatre and feature The Incredible String Band, performances by Jeff Nuttall and the People's Theatre, a new film about Bob Dylan, and "comedians and strippers".
"It's an impressive line-up" I told Paul. "The rumours are even more impressive", said Paul. "I've put it about that Mick Jagger will be making a surprise appearance."
"And will he?", I asked. "'Course not", said Paul. "And neither will The Incredible String Band, but you've got to raise people's expectations. Bring the crowds in."
I can now say with all the confidence of advanced age that the event was quite the most embarrassing experience of my life.
The auditorium of the theatre was packed and there were rumours that the police had been called in to deal with the hundreds of students and general layabouts who'd been unable to gain admission.
Paul's involvement though seemed to be entirely confined to arousing all this enthusiasm. Far less time had gone into considering how it might be satisfied.
When I took my place in the wings I was told that there was no running order. Several people hadn't yet arrived so could I please go on and ad lib for a few minutes.
But it was quickly clear that the audience wasn't in the mood to listen to inconsequential chat from a lecturer in sociology. They wanted Mick Jagger. They wanted The Incredible String Band.
I gesticulated wildly towards the wings. Did they have an act they could send on to help me out? I couldn't stand there much longer without provoking a riot. A moment later, prompted by roars from the audience I looked to the side and realised Paul had responded. Downstage right a plump blonde lady was rapidly divesting herself of a sequined bra. I should, I thought, be thankful for small mercies. At least the stripper had arrived on time.
It was all downhill from then on. No sooner had the stripper taken her knickers off than the stage was invaded by a bunch of actors from the People's Theatre who proceeded to present a sort of improvised drama which involved some very graphic semi-naked portrayals of homosexual acts.
This so incensed some sections of the audience that I was approached in the wings by a steward who ordered me to intervene immediately. I strolled on, grabbed the microphone, and said that the People's Theatre presentation was now concluded. As Jeff Nuttall passed me at the microphone he said in a booming voice, "Bloody liberal".
There was no Mick Jagger. No Incredibles. No comedians. And when it was time to show the Dylan film, Don't Look Back, a mistake in the projection box which proved incurable meant that it was shown, to a chorus of boos, upside down.
Eventually, dissatisfied punters stormed the stage and the police arrived to clear the auditorium.
"There", said Paul, as I ran off the stage in search of somewhere to hide. "That's what you call a happening."
It was not the word used next day by the local paper. They preferred such terms as "orgy" and "riot". In an editorial they spoke of the decline in "civilised values" exhibited by the show and called for its organisers to be punished.
Paul was sanguine. "All good art is scandalous", he announced. "Its primary function is to give offence."
I thought of Paul and his "happening" as I was reading a new book about a whole series of phenomena - books, songs, sculptures - which, over the years, have given offence to particular communities.
You can hear me talking to Steven Tepper, the author of Not Here, Not Now, Not That! Protest over Art and Culture in America, at four o'clock today or after the midnight news on Sunday. Or on our podcast.
Also in this episode: What is it like to be elderly and gay and living in the English countryside?
Laurie Taylor presents Thinking Allowed