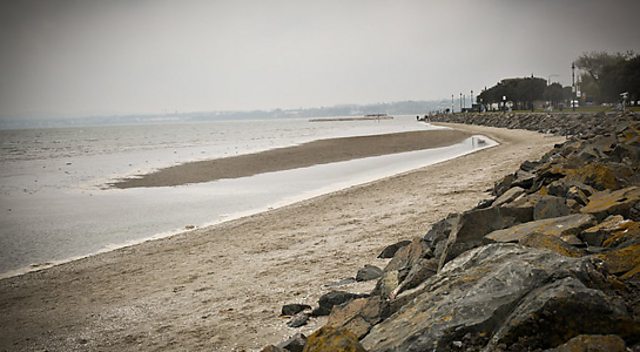 Sandymount Strand, the stretch of water near Dublin where several scenes from Ulysses take place
On Saturday 16th June, Radio 4 is broadcasting a seven part dramatisation of James Joyce's Ulysses. To mark the occasion, Saturday Live will be in Dublin. Here, Dixi Stewart, Executive Editor of Saturday Live, describes her experience of reading the book.
Sometimes when you're making programmes things just fall into place. I've spent the last few weeks working out how Jeremy Mortimer's beautiful dramatisations of Ulysses would sit in Saturday Live's unpredictable mix of remarkable people and their extraordinary lives.
I'd spent many hours talking about it with my wise and thoughtful colleagues at Radio 4, I'd asked JP Devlin to go to Dublin to record a Crowdscape feature and I'd arranged for him and Bloomsday presenter Mark Lawson to join us live over a breakfast of kidneys. I'd invited the classicist, comedian and commentator Natalie Haynes to be our studio guest as she knows all there is to know about the original Greek Ulysses, but, like most of us, has never read the James Joyce book, and the Saturday Live team had gathered some cracking stories and features (Norman Lamont's Inheritance Tracks, anyone? One choice is Je ne Regrette Rien).
I wasn't too worried. I'd spent a half-term week next to the snotgreen and doubtless scrotum-tightening sea with a copy of Ulysses, and so much of the text was pure Saturday Live: 'the druidy druids', 'the wavewhite wedded words', 'the sunflung spangles' and 'the deaf gardener with Matthew Arnold's face'. But I was still looking for one story to bring it all together. At our programme meeting on Tuesday we had various alternatives but none was quite right. Then on Wednesday evening I was chatting to Sian Williams when I remembered a story she'd sent me some weeks before about a woman called Susan Richards who, 20 years ago, had been inspired by a stall full of books at a damp June fete to send a million books to the former Soviet Union. Meteorologically topical, we thought, and a literary theme, and wouldn't it be perfect if we could find someone in Russia who'd received some of the books?
So the next morning I called the splendidly knowledgeable Susan Richards who not only agreed to come into the programme but who also generously offered to track down Ekaterina Genieva, who'd organised the distribution of the books in Moscow to see if she could join us too. Yesterday evening, I got the call: Ekaterina could join us from Berlin to tell her side of the story and how the shipment of books had changed people's lives. What was most extraordinary was that Ekaterina herself studied English literature, and had written her thesis on - would you believe it? Ulysses.
Saturday Live: pure serendipity. I do hope you can join us tomorrow at 9.