The Thinking Allowed Newsletter: Merry humbug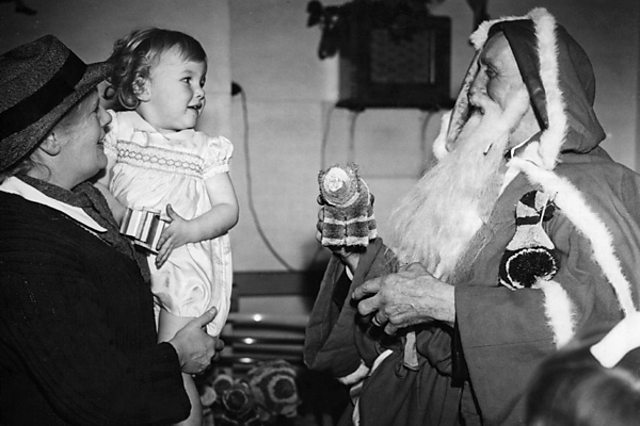 Child and mother meeting Father Christmas
My father hated Christmas and all its trimmings. He detested the infantilism it imposed upon otherwise sensible people: the silly songs and daft customs, the hypocritical exchange of good wishes, the giving and receiving of unwanted and ill-chosen presents.
I can still remember going home to Liverpool in the late 1970s. For some reason or other I'd decided that year to do my very best to overcome my father's traditional aversion to the season by choosing very expensive and very appropriate gifts.
When I arrived at the front door I was so laden with parcels that I had to ask my new wife to ring the bell. From the time it took for there to be any response and then from the long moments of waiting while bolts were withdrawn and latches undone, I guessed it was my father who'd been dispatched from the kitchen to greet us.
As the unlocking continued I gave my new wife a big re-assuring smile. She'd been warned about my father's seasonal churlishness but I still worried that she'd not quite grasped the depth of his distaste.
The door finally opened and revealed dad in his dressing gown. Hadn't he known that we were coming? Didn't he realise that we'd driven the best part of two hundred miles from London that morning? Why hadn't he made at least some sort of effort?
But there was worse to come. Without saying a word he looked down at the parcels we were carrying, at the carefully chosen, beautifully wrapped and perfectly labelled presents that my wife and I held in our hands.
Not one of these niceties, these careful acts of discrimination, impinged upon my father. With his gaze still fixed firmly on our handfuls of gifts, he nodded his head sorrowfully and said "You know, Laurence. You really shouldn't have bothered with all this muck."
I suspect that dad would have been rather pleased with our Christmas edition of Thinking Allowed. We have nothing whatsoever on the anthropology or sociology of mince pies or mistletoe or mumming. Instead we have a serious sit-up straight, put-down-those crackers discussion about two therapeutic ideologies - the anti-institutional psychiatric movement associated with R D Laing and the psychoanalytic movement founded by Sigmund Freud. How do we account for the dramatic rise and fall of the former and the extraordinary endurance of the latter.
That's all at four o'clock today or on our podcast.
One last thing. Because I share my late father's lack of religious belief, I can feel pretty certain that he's not now looking down upon me as I wish all my newsletter readers a very happy Christmas.
Laurie Taylor presents Thinking Allowed
You can listen to this episode of Thinking Allowed on the Radio 4 website, subscribe or download the podcast.
Sign up for Laurie's Thinking Allowed newsletter.
You can find out more about the programme's new partnership with The Open University and related features by going to their website.
The picture is from the BBC's archives. The original caption info reads: "Shipmates Ashore: Toys for Children of Merchant Navy Men From Nigerian Listeners 20/12/1944 © BBC Picture shows child and mother meeting Father Christmas. Several crates of toys made by the craftsmen of Iket Ekpene, Nigeria, and paid for by the Chiefs and people were sent at Christmas to Doris Hare, hostess of the BBC programme for the Merchant Navy Shipmates Ashore. London's share of the toys were distributed to orphans of British Merchant Navymen at a party at the Merchant Navy Club which was recorded."