Editor's note: In Thursday's programme Melvyn Bragg and his guests discussed The Phoenicians. As always the programme is available to listen to online or to download and keep.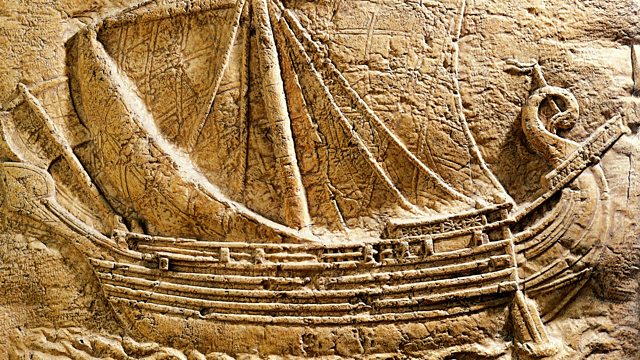 Hello
Here are some notes from the talk after the programme. One of our contributors said that he should have been giving a lecture in his university. Instead he'd asked his students to listen to In Our Time and to discuss it with him as soon as he got back.

While on air we had a message from Damascus. From Damascus!
In Tudor and Renaissance times, when people in this country did not want to think they were French in origin (unlike the colonising force which came across in 1066 and steadily for a couple of centuries afterwards), they decided that they would be Phoenicians instead. The Cornish were particularly keen to be Phoenicians. They said the Phoenicians had come up to the Scilly Isles and then into Cornwall itself, and they had been responsible for Stonehenge and cinnamon in fruit buns, among much else.
The Welsh also wanted to be Phoenicians. The evidence they put forward was the Welsh moustache. They said that living in Wales the Phoenicians had lost their red or ruddy skins, and gone Welsh white. But to maintain their distinction they grew a particular sort of moustache.  Later on, to retrieve some colour, they painted themselves blue. This was called woad. But there were certain Welsh persons convinced that this was a return to the Phoenician.
The Irish, too, decided to be Phoenician because they didn't want to be British. We find it in several Irish writers, Friel and Heaney included, that they sympathised with the Carthaginians, because the Carthaginians were anti-Roman which stood for being anti-British.
The Phoenicians have had a high old time since they slipped out of history. A very early film made in Spain in 1914, Cabiria, concerned a little blonde girl who was stolen by Phoenician pirates and taken to Carthage to be sacrificed. She was rescued by a Roman soldier and his black slave/servant and huge adventures ensued.
In fact, it seems that because we know so little, if anything, about the Phoenicians since about the 2nd century BC, we can make up whatever we want.
It is significant that Aeneas, on his way from burning Troy to founding Rome, stopped at Carthage, which as a result was the subject of the best book in Virgil's epic. The story of Dido and Aeneas, and her sacrifice as he sails off to found a new empire, still resonates.
End of notes.
I found it impossible to go for a walk, partly because it was sluicing down and I was not dressed for such a downpour. In Cumberland it would have been bracing.  As the sage said, "There is no such thing as bad weather, only inadequate clothing".  And I had back-to-back-to-back meetings. I try to pack them into one day so that the rest of the time can be free to get on with work.
Met with Tom Morris, the producer, to talk about the next batch of programmes. We have three in prospect and need another half-dozen. Tom is so well-prepared that meetings like this are the quickest and most decisive I think I've ever had in my career. Joined by Gwyneth Williams, Controller of Radio 4, who was very pleased to tell us (and we were very pleased to hear) that our audience figures – as measured by an organisation called RAJAR – went up by a quarter of a million in the last three months. These things go up and down, but up is always good. We talked a little about the five programmes that we're going to do on Magna Carta at the beginning of next year. Gwyneth departed with the RAJAR cake she'd bought for her office. Tom and I had a biscuit with our coffee.
I walked from building to building to those meetings and there was a general sense of trudge everywhere. The Tube strike bit in. Masses of people were heads into the rain up the pavements. Umbrellas threatened to poke out all eyes.  There was almost a sense of refugees. Nothing of course like the Somerset Levels. I can't think of those two words without remembering that that was where Alfred the Great retreated when England was threatened by the Danes to become Danish, and would have been, had Alfred not gathered his strength and a force in the Somerset Levels where he evaded all attempts to capture him, and came back and defeated the Danes and Christianised them and that is why we're English today.
Then crawled back home through traffic which probably set new standards for congestion.
Nevertheless … a message from Damascus! Think about that.
Best wishes
Melvyn Bragg
Download this episode to keep from the In Our Time podcast page
Visit the In Our Time website
Follow Radio 4 on Twitter and Facebook
The BBC is not responsible for the content of external websites