Beatrix Potter and the tailor
Editor's note: Hear Beatrix Potter's Favourite Tale on BBC Radio 4 at 11.30am on 27 December. Here, the presenter Philip Glassborow talks about the story behind the programme. PM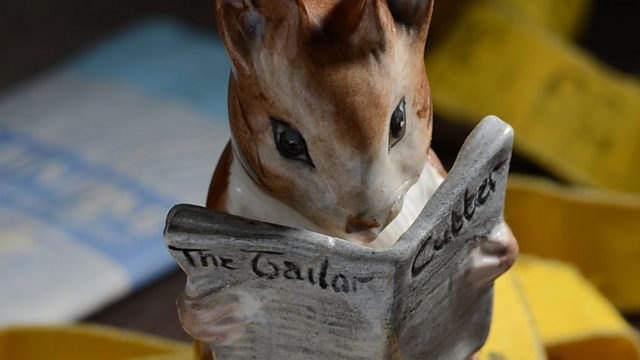 As you may know, 'The Tailor of Gloucester' was actually based on a true story, which Beatrix Potter heard while visiting some cousins in the Cotswolds. (Although she embroidered the tale considerably, adding in the mice who helped the poor old tailor with their delicate stitching, and Simpkin the cat!)
And I've just been on a delightful journey for Radio 4, with producer Beaty Rubens, to find out more about Miss Potter and her Gloucestershire adventure.
We began by taking tea with Judy Taylor, the doyenne of Potter experts - her edition of the 'Letters' was particularly helpful in compiling the programme.
We learned that Beatrix originally wrote the story as an illustrated Christmas letter for a little girl who was ill. So she naturally included several carols, as well as other traditional festive songs such as 'Wassal, Wassal, To Our Town'. There is joyful singing throughout her original story - not only from the melodious mice, but also a turnspit doggie, some horses, the sparrows, and even the rats, who perform a rousing version of 'Uncle Rottan'.
To create the book version, Beatrix borrowed her letter back and made some new illustrations, even visiting the South Kensington Museum (now the Victoria & Albert Museum) to copy beautiful embroidery for the Mayor's finery. Then she had five hundred copies of her little 'mouse book' privately printed. And throughout her life, this first edition remained Beatrix Potter's own special favourite among all her works.
As she wrote to her publisher - later to be her fiancee - Norman Warne, "I was quite sure you would cut out all my favourite rhymes! Which was one of the reasons I printed it myself." Later, when the book was published by Warnes, they did indeed cut most of the rhymes.
But we were fortunate to meet two renowned experts on folk music and folklore at the Gloucester Folk Museum. Roy Palmer and Yvette Staelens gave us fascinating insights on the rich heritage of rhymes and refrains in Beatrix Potter's work. And the curator, Sarah Orton, showed us some remarkable wassail bowls.
A wassail bowl dated 1611 as featured in Gloucester Folk Museum
Thence to the Tailor of Gloucester Museum, nestled in the shadow of the Cathedral, where we heard more about the actual tailor himself from volunteer Mrs Pat Prince.
So. Where did Miss Potter, a lonely spinster living in Kensington with her oppressive parents, learn all this vivid folklore and discover these traditional country ways? And how did it influence her extraordinary generosity to the fledgling National Trust? Do please join us if you can for this musical journey, just after Christmas on Radio Four...