Editors note: Listen in to Saturday Review from 19:15 on 9 February to find out more about DreamThinkSpeak's new intriguing show at Somerset House.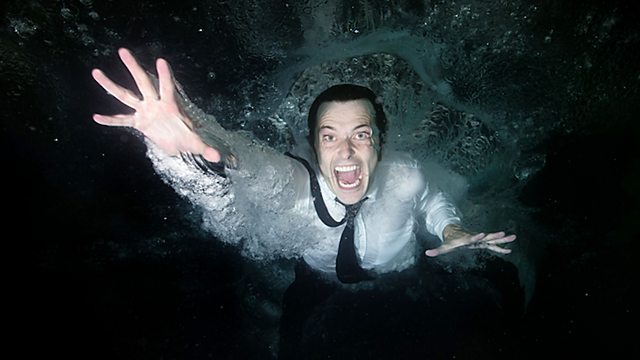 DreamThinkSpeak - In The Beginning Was The End
The producers of In the Beginning is the End - a site specific installation by DreamThinkSpeak in the bowels of Somerset House - were very anxious that reviewers don't give too much away about what happens in the performance which is handy in a way because it saves me the trouble of trying to work out exactly what did happen.
It didn't strike me as the kind of performance that could readily be Spoiled, to be honest one of those magical mystery tours which have become rather fashionable in recent years, bent on surreal enigma and a mild dislocation of the senses. Anyway, I'll behave myself and not say anything too specific about it, except to note that it chimed in a most unexpected way with one of our other items this week, the animated Disney film Wreck-It Ralph, out on release this week just in time for half-term breaks.
Wreck-It Ralph does for video games what Toy Story did for action figures and slinky dogs - imagining that the sprites and avatars that populate them might have their own anxieties and desires. It was the architecture of video games that I found myself thinking about in Somerset House, though, as we alternated between open-world maps where you could wander at will and corridor-like sections which offered you no option. There were even cut-scenes and, I may be hinting at too much here, a kind of boss level.
Also on the programme this week; Jim Crace's new novel Harvest details the events in a remote English village triggered by the arrival of newcomers, both poor and powerless and rich and powerful, we watch the original version of Raul Ruiz's Lisbon, released in cinemas last year in a four and half hour cut, but first broadcast on television as a six hour series, and visit the British Museum's new Ice Age exhibition.
I confess that I've always been a tiny bit sceptical about the rapture with which virtually any piece of art older than 15,000 years is greeted - even the Ice Age must have had bad artists. But perhaps this show will make a convert of me. On the programme with me this week the novelist Gillian Slovo, the comedian David Schneider and the cleric and writer Giles Fraser. As it happened I bumped into him as I was emerging from The Beginning is the End and from the look on his face he couldn't have easily spilt the beans about what had happened either… I'm hoping he can enlighten me the next time we meet.