'It had seemed a good idea at the time to go interrailing,' I thought, as the heavily armed Italian soldiers ordered us to put our hands up and lie on the ground.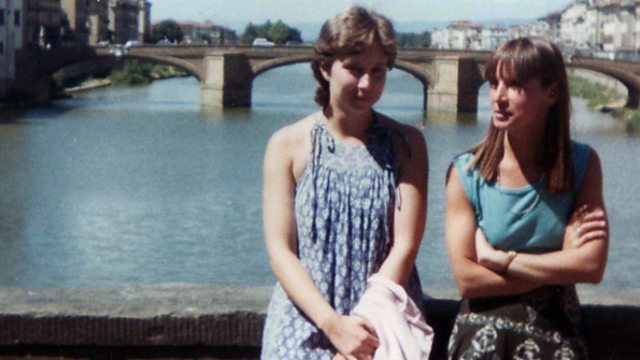 Lesley McAlpine and friend Mandy on their interrailing trip
It was July 1982 and I was on my first trip backpacking around Europe with a school friend. We'd missed an evening curfew at a rather forbidding hostel in Rome and, unluckily for us, the hostel was next door to a prison which was on red alert the neighbourhood was scoured for members of the Marxist Red Brigade terrorist group. Well, that's what the gun-toting officers told us - though I think they had guessed pretty quickly we were just scruffy backpackers. Fortunately, we didn't see the inside of an Italian jail that night. The next morning the same soldiers roared with laughter at us as we slunk past them sheepishly, having slept out overnight on the banks of the river Tiber.
That incident really sums up for me the excitement, hopes and fears of the interrailing experience. In that summer of '82, I remember thinking how amazingly clean Swiss towns were; I remember how my head swivelled round when I saw David Bowie walking down the main street of Lausanne and what great parties the Italians throw! Perhaps not surprising, considering they'd just beaten Germany 3-1 in the World Cup final.
There is of course a downside to train travelling on a low budget - being moved on from park benches by police officers while trying to snatch some sleep between trains; eating spinach for three days after running out of money; and catching nasty bugs after drinking the wrong kind of water. But somehow I've air-brushed a lot of the bad things out. For me, it was all about making new friends, travelling on a whim and of course the lucky escapes.
I wonder if young people planning their own backpacking expeditions this summer will set off with that same sense of excitement I felt? Will they even travel by train? Today's generation are used to cheap flights and long haul trips, if they're lucky, to Thailand, New Zealand or South America. Is going Euro loco just a bit too slow?
I want to know the answer to that very question. So that's why I'm making interrail Tales - two programmes for Radio 4 which will broadcast at the end of August. I want to hear your stories of railing around Europe from the early 1970's, when the blue and white paper ticket to ride was first launched, right up to the present day.
Was your life changed by interrailing? Were you witness to a key moment in European history like the fall of the Berlin Wall in 1989? Perhaps you watched first hand the recent protests in Greece or Spain? Are you heading off around Europe on a train this Summer? If you have been part of the interrail generation I'd like to hear your stories, and perhaps have a flick through your photos, too - if I can rise above the shame of bad hair, so can you!
If you want to be part of the interrail Tales on Radio 4, please email me.
Lesley McAlpine is the producer of the upcoming programme Interrail Tales.
is on Saturday 13 August 10:30am on Radio 4 and for seven days after
on the website
.