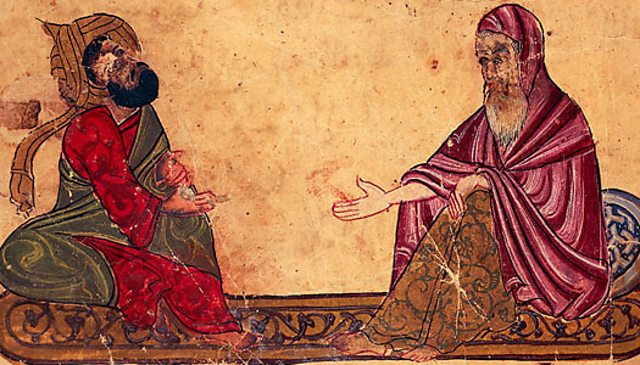 Hello
The range of al-Kindi was almost limitless, it seems. After the programme I was reminded by one of the contributors that we had not discussed his masterly work on the making of swords. Another contributor piped up with regret about the omission of his equally masterly pamphlet on coitus, and how men, properly attended to by drugs and herbs, could defy gravity in a long life.
Out then into the outrageous sunshine of London, as if trying to make up for the torrents of rain and somehow to balance the rage of floods in the North to which I am headed this afternoon. It's the Queen's London at the moment. She's taken over. Nobody seems to mind a bit, except occasional persons on four wheels.
I was in Green Park yesterday and in preparation for the opening of the memorial to Bomber Command - a very large memorial which has occasioned some controversy because of its size - I was lured by the sound of music and a lovely choir singing over this finest royal park. They were rehearsing a concert for the Royal Air Force Benevolent Fund. There's something about rehearsals of music that is often more attractive, I think, than the actual performance. The stopping and starting. The empty seats. The informality of the dress. The feeling that you're getting a free concert!
And on past the tumult of people feeding the best-fed ducks in the Western world, across towards Westminster Abbey, and I took to the road because the pavements were so crowded that it would have been as if I were running directly into the All Blacks' scrum just to make the extra yard or two. The idea of the crocodile has died. People, especially crowds of young people, walk mob-handed like medieval armies, occupying all the pavement that there is.
Into the Lords, where the discussion was on the future of English cathedrals. Some fine speeches on a fine subject. Whatever your religion, I think, there are so many layers of interest and richness of history and thought, of skill and definitions of beauty inside these cathedrals, that the efforts now being strenuously made to keep them in good repair is exemplary.
As I sit in the lobby of the Lords and dictate this, I can hear the Lancaster bomber going over Green Park and dropping poppies. The Queen will be there. Slowly the Union Flags are being replaced by the flags of all nations - the Olympic flags - but it's still the Queen's city at the moment and she's taken it without a single voice of dissent.
Best wishes
Melvyn Bragg
Download this episode to keep from the In Our Time podcast page
Visit the In Our Time website