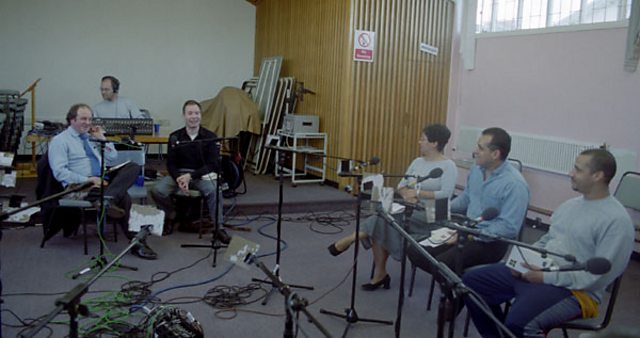 Looking through the list of Bookclub recordings brings back some extraordinary memories... of Joseph Heller talking about Catch 22, Wendy Cope reading poetry in a basement studio in Broadcasting House while the story from New York was coming in on September 11, 2001, Muriel Spark reading from The Prime of Miss Jean Brodie, having driven from Italy across the Alps in an old car to be with us. It's wonderful that, thanks to the Radio 4 archive, all 156 programmes can be listened to: they're a journey across our literary landscape.
Each year, with Dymphna Flynn, my producer, we look back on the previous twelve months and - without exception - surprise ourselves at the range and the quality of the authors who've come along to sit with a couple of dozen readers (we never have more, because we know the difference between a reading group and an audience...). Take the first five months of 2003. Alan Bennett, Salman Rushdie, William Trevor, Beryl Bainbridge and P.D.James. Beat that. Or the autumn of 2008. Colm Toibin, Gore Vidal, Michael Morpurgo, Fay Weldon and Amitav Ghosh.
The memories come flooding back from so many of them. I've been lucky enough to be able to record each edition since we started in 1998, though there have been some hairy moments when events conspired to intervene. Overwhelmingly, authors have been more open that we might have expected. Even some with a reputation for reticence - John Irving comes to mind - opened up when faced with readers who had come because they wanted to discuss that month's book. The questions have, from time to time, been astonishingly acute. Both the Israeli novelist David Grossman and the Canadian Anne Michaels were taken aback by the directness (and intelligence) of our readers, and there were uncomfortable moments.
But usually there's a good deal of hilarity as well as high seriousness. Jilly Cooper's lurchers insisted on snoring through a recording in a polo club in Gloucestershire; the floor in Dr Johnson's House creaked all the way through our programme with William Trevor; and one author - only one - forgot to turn up. Sometimes there have been confessional moments (Douglas Coupland found himself revealing more than he intended...) and often an electricity that was unexpected, as when Tony Parsons discussed Man and Boy in a prison, after which one of the readers (who had asked a series of highly intelligent questions) told me: "I was once the most wanted teenager in the country."
The reason why the archive matters is that it reveals how resilient the reading habit is in our culture. Death of the book? Forget it. The phenomenon of the reading group/bookclub that's been so remarkable in our time, which the programme has been able to celebrate, is evidence of something more profound: the extent to which fiction still sustains and excites people of all ages. The Radio 4 experience, through the programme and particularly with this archive, makes that point, simply and incontrovertibly.
Of course we've talked about lots of non-fiction, too - history and biography have produced some of our most memorable recordings. I can't count the number of times after a recording that it's been one of our best programmes - William Hague on William Pitt, Clive James on his Unreliable Memoirs (in which he spoke about his relationship with his mother in a way he has never done anywhere else), Alan Bennett on Writing Home.
This archive is a treasure trove. I only wish the unedited versions were available too...Untold riches. But that's for another day.
Jim Naughtie presents Bookclub