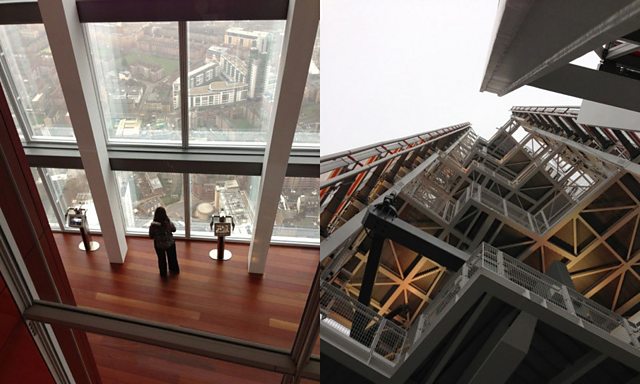 The French writer Maupassant used to claim that he ate at the restaurant in the Eiffel Tower because it was "the only place in Paris where I don't have to see it", a joke that's occasionally been recalled by those who aren't happy about what Renzo Piano's Shard has done to the South London skyline.
From February onwards Shard haters with deep pockets will be able to take Maupassant's remedy -- when the viewing platforms in the tower are opened up to the public and this week we went off to see what kind of experience they will get, as the "The View" -- as it's being branded -- opened up for press inspections.
On the day I went the weather was doing a pretty good job of embargoing the view, fading London to blank grey at anything above half a mile, but it was clear enough to re-experience the trick that altitude plays on our perceptions of a city, something I hope that the novelists Louise Doughty and Philip Hensher and the musician Pat Kane will be talking about this week.
We've also gone underground for the programme this week -- into the vaulted tunnels under Waterloo Station for Phyllida Lloyd and Fiona Shaw's staged reading of The Rime of the Ancient Mariner -- and found ourself marooned in the musical doldrums of Les Miserables, Tom Hooper's film version of Cameron Mackintosh's hit.
Completing the line-up for this week is Nicholas Royle's intriguing First Novel -- actually his seventh -- narrated (in part) by a teacher of creative writing, which should touch a nerve with Louise and Philip, who've both worked in that field too. And we've watched Channel Four's geek thriller Utopia, about a mysterious graphic novel which stirs dark happenings in the real world. The View took us 800 feet up, by means of two lift journeys and a few steps.
Has anything else taken us higher by less tangible means?