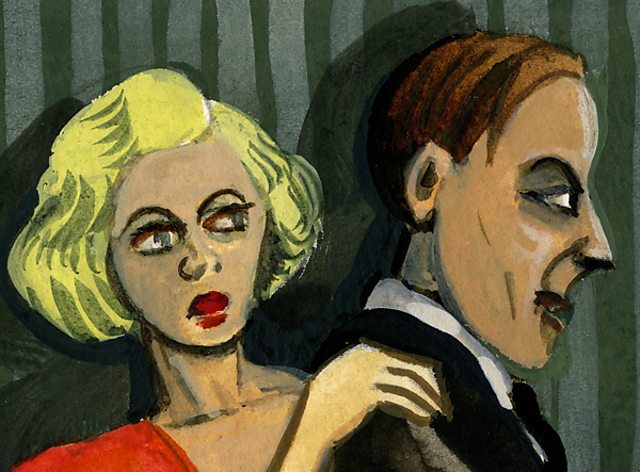 An illustration (detail) for Radio 4's Raymond Chandler season by Andrzej Klimowski
(Ed's update Tuesday 4 October: When I first wrote this I should have mentioned Strangers on a Film, the Afternoon Play last Thursday with Patrick Stewart and Clive Swift, playing Raymond Chandler and Alfred Hitchcock respectively about their famous collaboration on Strangers on a Train. It's available online for another two days - PM)
This Saturday sees the return of Raymond Chandler's fast-talking private investigator Philip Marlowe in the Saturday Play slot with The Long Goodbye. The High Window is on the following Saturday. It's the second part of a series of Radio 4 adaptations of all of the Marlowe novels with actor Toby Stephens in the lead role.
Playback, Farewell My Lovely, The Lady in the Lake and the Big Sleep were broadcast earlier this year and at the time The Guardian's radio critic Elisabeth Mahoney wrote:
"There's lots to admire about The Big Sleep, the first adaptation in a Classic Chandler season dramatising all Raymond Chandler's Philip Marlowe novels. But as you listen, one thing pretty much eclipses all else. It's not the detective plot, the noirish palette to everything, the enviably snappy dialogue, or terse brilliance of Chandler's prose. It's Toby Stephens as Marlowe, and specifically his voice."
She goes on to say:
"Stephens gets the voice so spot on - low, measured, etched by things unspoken, dark as night, taut and spare but intriguing - and his accent is so convincing..."
So perhaps we should add Toby Stephens to the roll call of great Marlowes alongside Dick Powell, Humphrey Bogart, Robert Montgomery, Elliott Gould and Robert Mitchum.
At the time the BBC homepage and iPlayer team used a set of images by Andrzej Klimowski to illustrate the programmes and it seemed like a good opportunity to share one of them with you again (detail above, full image below).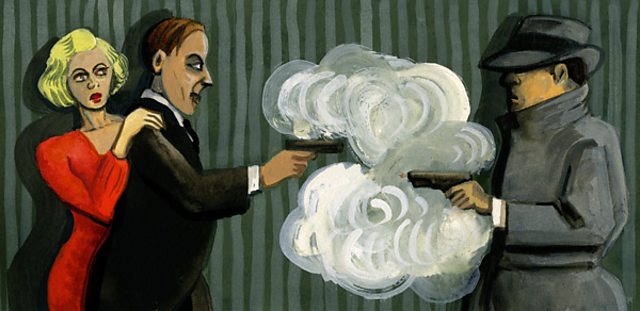 Illustration for the Raymond Chandler season by Andrzej Klimowski
I also emailed Andrzej late last night, appropriately enough, catching him just before he left on a trip to Poland and asked him about his use of colour in what for most of us is still a hard-grained black and white genre. Typically enigmatic this is what he wrote back:
"Dear Paul,
Most people think of Chandler's world as being black and white due to the film noir adaptations from the forties and fifties. I wondered what it would look like in colour. Making an illustration for a piece of literature is like signalling a story rather than illustrating it, setting an atmosphere.
Good night and good luck,
Andrzej Klimowski"
The Long Goodbye is on Saturday 1 October 2011 at 2.30pm on Radio 4 shortly afterwards on the website.
The Little Sister and Poodle Springs are also coming up as part of the season.
Paul Murphy is the editor of the Radio 4 blog