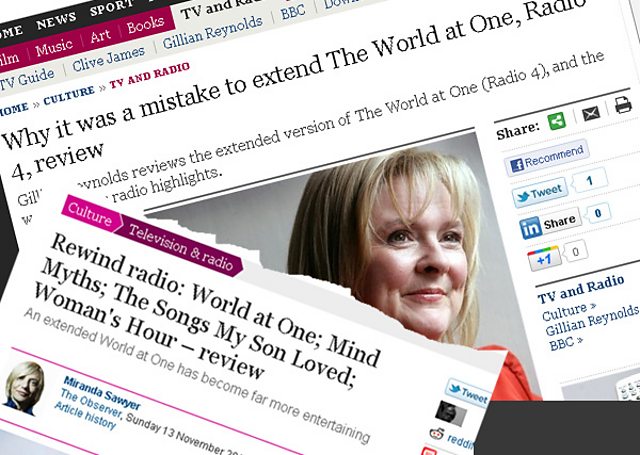 In the Observer radio critic Miranda Sawyer has written about the recent schedule changes at Radio 4. While she isn't happy about some of the afternoon switches:
Oh, and I don't like The Media Show being on at 4.30pm. Just so you know.
she is more complimentary about the reason the reshuffle came about in the first place:
"...The biggest change, which is that World at One has been given an extra 15 minutes, has proved very successful. It was a newsy week, and the programme has used this wisely...

Somehow World at One's extra 15 minutes has turned it into a far more rigorous, surprising, entertaining programme, and Radio 4 now has its news studded successfully throughout the day: Today, World at One, PM, each with a distinct personality, as well as good journalism. No more news, though, please. We already have 5 Live."
At the start of last week Gillian Reynolds, the Telegraph's radio reviewer, wasn't impressed by the new changes, writing under the headline Why it was a mistake to extend The World at One:
"When, for instance, Martha Kearney's trailer for the new World at One told me the programme's extra time would give them the chance to 'unpick' the story of Greek debt my switch went directly to 'off'. Unpick? Penelope at her Homeric loom, keeping off her suitors all those years Odysseus was away, could not have done more unpicking than the endless reports I have heard on this story."
Radio 4's controller Gwyneth Williams is appearing on Feedback soon and Roger Bolton, Feedback's presenter, has asked for your questions so he can put them to her. You can find contact details for Feedback on his regular weekly blog posts on the Radio 4 blog. Gwyneth Williams is in conversation this Wednesday night with "doyenne of radio columnists Gillian Reynolds" at a Media Society event:
"Gwyneth Williams has just completed her first year as Controller of Radio 4, the station with the most vocal and critical audience of any on the airwaves. How easy is it to innovate without upsetting the traditionalists? How can the station attract younger people without alienating older ones? What is the future for the flagship Today programme? Are there enough women on the air?"
More details here.
Paul Murphy is the editor of the Radio 4 blog