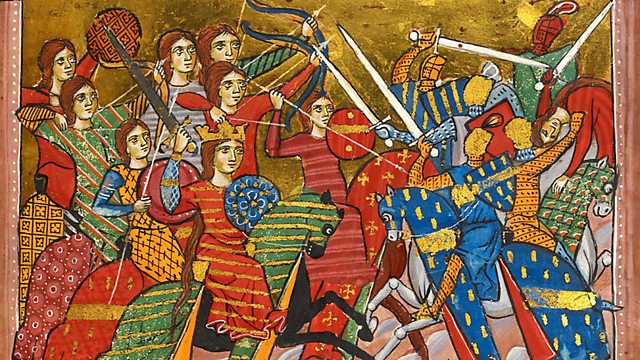 The Amazons
Hello
We have less time to talk after the programme these days. We used to loll about in the studio until the spirit moved us to drift towards reception. Now we are ushered out before ten o'clock to make way for the next programme. The last few minutes are a domestic rush as Tom and Ingrid and myself clear the studio of cups and saucers, croissants, bits of this and that, newspapers, discarded notes and the essential cardboard that blocks out other studios in this ultra-modern complex. Nevertheless, this time we got a few minutes to talk. Paul Cartledge was particularly keen to emphasise how the Greeks invented traditions. He is not a believer in the accretion of myth, as it were, from the earth, which is the begetter of the myth because a particular seed has been planted. He thinks they invented it. He talks about how they wanted to be seen as citizens, particularly how Greek men wanted to be seen as men. Aristotle, he said, was worse on women than on any other subject. He thought that they were mysterious, difficult to understand and so strange. They were "like men" but inferior to them and men had to rule over them. Therefore, reasons had to be found for this dominance.
It's interesting that in all the battles which are depicted between the Greeks and the ferocious Amazons, the Greeks always win. Interesting is the wrong word. Inevitable might be better. Carrie Vout pointed out that in the iconography the Greeks are often depicted as naked, but the Amazons always keep their clothes on, sometimes a great number of clothes on. Did this indicate a certain female modesty, even in the warrior race? The word virility had its roots in a Greek word which also meant bravery, Paul Cartledge pointed out. So there seems to be, at the very least, a great deal of shadow boxing with that woman out there, whoever she was. Chiara Franceschini spoke at length about Rubens, having had only a sentence or two to express her views on the programme itself. He painted battles which engaged the Amazons three times, full of blood and violence and the passion of war. Chiara pointed out that there didn't seem to be any judgement in it as to who was right in the battle, although the women seemed to be suffering more. They were thought of as particularly ferocious pieces of work. He dedicated the biggest painting to the Countess of Arundel.
Otherwise, just a few notes. Thatcher day on the unprecedented recall to Parliament of the Houses of Lords and Commons (not that the recall was unprecedented but the occasion for the recall was, just as it seems). Much has been made of the absence of Labour MPs in the Commons. Not so much about the absence of notable Tory former Cabinet members in the House of Lords. The finest speech, I thought, was by Norman Tebbit, which ended with the killer line that he deeply regretted not being able to work with Margaret Thatcher in the last years of her government because of his commitment to his wife, who had been badly injured in the Brighton bombing. So he left her, he said, in his final sentence, "to the mercy of her friends". There was a small gasp around the House. It was a telling remark.
Walking along to have lunch with an old friend, I popped into Sam Fogg who sells a great number of antiques, but, best for me, stone pieces from the Early Middle and Middle Ages. Bits of statues, or even whole statues, capitals, etc. Out of my reach, but as good as any museum.
Ducking a bit from the Christian websites' slings and arrows after the film I made on Mary Magdalene. It's always rather annoying to be quoted for things you did not say and condemned for attitudes you do not take. But that's all part of the circus.
On the Heath the other day. Sun was shining, a spring in the step, buds were beginning to peep out, April showers of course, but at least we got a good song out of that.
Best wishes
Melvyn Bragg
Download this episode to keep from the In Our Time podcast page
Visit the In Our Time website